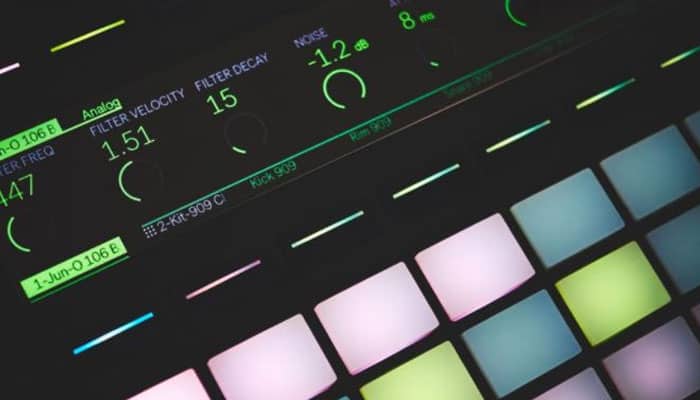 When choosing the right finger drum machine to buy, there are various factors to choose from, and no single product is the best machine since there are lots of variables. Some of theseinclude: 24-bit, stereo, electronic, classic, modern, a professional beat production station or an old skool electronic rhythm machine like the Alesis.
In the list below we will look at the best of drum machines that are available in the market and what are the factors that make them better from the rest.
1. Alesis SR16 Classic 24-bit Stereo Electronic Drum Machine
When discussing the best drum machines, it wouldn't be fair not to mention the one that started it all. It is considered to be one of the best drum machines of all times whether by live performers, songwriters or even remix engineers for that matter.
The Alesis SR16 Classic 24-bit Stereo Electronic Drum Machine has all the qualities that you require from the very best of your drum machines. When looking at the features of this drum machine it boasts everything that a very good drum machine should have; including 50 preset patterns and 233 professional sounds.
Pros
+ When talking about the midi implementation that this drum machine has on offer it is absolutely complete with input for the footswitch, pat buttons that are velocity sensitive and flexible features for editing and programming.
+ A pretty user-friendly drum machine with an easy to use user interphase.
+ The dynamic articulation that this drum machine comes equipped with makes it sound similar to that of the real drum set.
Why We Liked It –Although the Alesis SR16 Classic 24-bit Stereo Electronic Drum Machine is the oldest drum machines that you will find on the market, it remains one of the best.
2. Akai Professional XR20 Beat Production Station
One of the best drum machines that you will get in the market is the Akai Professional XR20 Beat Production Station that has all the qualities that you want from your drum machine. Whether you talk about the features, the specifications or the design, everything about this drum machine is just perfect.
When referring to the features that this drum machine has on offer, it comes equipped with 700 sounds so that you are able to play any genre of music on it, whether it be a soft tonal song or a harder one like a metal song this drum machine can play them all.
Pros
+ Has the capability of producing over 700 sounds that make it quite diversified as far as music is concerned.
+ The 99 preset and the user patterns that this drum machine has, adds to the features of it.
+ Comes equipped with all the necessary inputs and outputs that you require from your drum machine, also has an extra microphone input to record your vocals with it.
+ The drum machine comes with AC adapter and a battery power capability making it best for portable use.
Why We Liked It –The Akai Professional XR20 Beat Production Station surely lies among the very top notch drum machines that you will find in the market these days.
3. Korg Volca Beats Analog Drum Machine
This drum machine surely is an editors choice and by the editor, I mean music editor, if you want to have the best editing experience from your drum machine this is certainly the drum machine to go for.
This drum machine makes the editing so easy and simple through its six editable analog parts that has one knob per function that even a teenager can use it with ease and if you want the pitch to be changed drastically you have the PCM part that provides speed accompanied with control.
Pros
+ This drum machine comes equipped with a 16-step sequencer with eight memory patches and the style of the sequencer is Electribe.
+ This drum machine also comes with the Sync in and out the option that allows clock sync of a number of instruments of the Volca series.
+ There is also a built-in speaker that this drum machine comes equipped with so it can be played anywhere.
+ There is also an optional battery power to this drum machine making it ever so portable.
Why We Liked It –Arguably one of the best drum machines of the modern times is the Korg Volca Beats Analog Drum Machine that comes at a pretty nominal price point.
4. Alesis Electronic Rhythm Beat Maker Machine
Whether you talk about the playability, the sound options or the durability of this drum machine it is really hard to find any flaw in it. The features, the specifications and the design of this drum machine have made it earn a lot of respect in the eyes of people.
Certainly among the top rated drum machines of all time is the Alesis Electronic Rhythm Machine that will make your digital drumming experience far more interesting than what it used to be with some other products of the similar sort. With the best quality on offer, this drum machine is surely the one that you would want to have in your recording studio.
Pros
+ This drum machine comes equipped with 233 professional sounds that actually widen the options for the user.
+ There are 8 loudness levels and 16 voice polyphony to select the one that best suits your personal requirements.
+ 200 user and preset patterns so that it remains equally good whether played at a live performance or used for indoor recording.
Why We Liked It – Whether you talk about the new or the old drum machines the Alesis Electronic Rhythm Machine remains one of the best drum machines of all time.
5. Korg Volca Beats Analogue Drum Machine Bundle
When referring to track-making or live performance this is the best drum machine that you could think of. Since this drum machine is an analog one, therefore, the sound quality that it has on offer is a pretty thick one so that it can team up with the acoustic drum and guitar and produce a magnificent song.
The age of the analog synthesizers is long gone, but not the love for it because of the quality of the sound that analog machine produces. This analog drum machine enables you to generate beats and that too with high-quality sound.
Pros
+ There is a 16-step electric-style sequencer with eight memory patches so that you can generate some great bets.
+ Easy editing is what this drum machine is best at and that is because of the six editable analog parts with one knob per function.
+ When talking about the portability of this drum machine, it is also good because it has built in speakers and optional battery power as well.
Why We Liked It –The best pick for you is the Korg Volca Beats Analogue Drum Machine Bundle if you are a fan of good sound quality.
6. TASCAM DP-008EX Digital PortastudioDP-008EX Beat Maker
This product comes from one of the very best in the business so you can rest assured that whatever you are entitled to get with this product is just going to be perfect in all senses. Tascam, a company well known for producing some top of the line multi-track recorders, has its brand name attached to this drum machine that actually eliminates all the doubt that you may have about this product.
The TASCAM DP-008EX Digital Portastudio DP-008EX is well known for its usability and that is only because of the easy to use interphase that the Tascam is so focused about.
Pros
+ Built-in stereo condenser microphone that is of high quality.
+ 8-track portable multi-track recorder to give you the recording experience and options that you always wanted.
+ It is a completely portable device that uses AA batteries as a power source
+ This recorder also comes in equipped with a 2G SD card.
Why We Liked It –The TASCAM DP-008EX Digital Portastudio DP-008EX is arguably one of the best recorders available in the market.
7. Arturia DrumBrute Analog Drum Machine Beat Maker
For someone who likes the sound of a drum machine that is really classic, this is surely the drum machine to go for. Having all the qualities of a really good drum machine it lays among the best drum machines that you will find in the market today.
When talking about the design, the features or the specifications of this drum machine, everything about it is just perfect. When speaking of features that this drum machine has on offer it comes equipped with 17 pure analog drum sounds, to give you all the diversity that you ever needed.
Pros
+ This drum machine comes equipped with wide-range controls so that you are able to produce many new and unique sounds.
+ This drum machine has two different flavors of kick drums so you have an added sound tone.
+ This drum machine has a unique analog reverse cymbal that you may not find in most of the other drum machines of the similar sort.
Why We Liked It –When speaking of the best analog drum machines available in the market the Arturia DrumBrute Analog Drum Machine is certainly among the top three.
8. Roland JX-03 Sound Module
JX-3P synth was originally launched at a time that was popular for button-driven interfaces. This model i.e. the Roland JX-03 Sound Module is just the continuation of the JX-3P Synth with all the up gradations that were required.
Pros
+ This sound module comes in with a built-in controller that makes it pretty easy to use.
+ It also has more sound shaping options as compared to the previous model.
+ It is highly portable and that is because of the battery or the USB Bus power that it uses.
Why We Liked It –The Roland JX-03 Sound Module is one of the best synthesizers that come from the brand Roland which is famous for its electronic musical instruments for a very long time now.
9. YAMAHA RX-7 Rhythm machine Drum machine
As we all know, Yamaha as a brand name there is almost nothing that it does not produce, from cars till the music instruments, the company has a complete range of products attached to its name. The best thing about this company is that whatever it produces it produces of great quality.
The musical instruments produced by Yamaha are also of the highest quality, whether talking about the guitar acoustic or electric ones or of you take up the example of a traditional drum kit or even a drum machine. The YAMAHA RX-7 Rhythm machine Drum machine is also another example of sheer brilliance by Yamaha.
Pros
+ The sounds of the percussions that this drum machine has are of great quality
+ If you are a person who likes editing you will be quite impressed by this drum machine because it is really good at it
Why We Liked It –If you are looking to program your rhythms this drum machine is surely the best pick for you.
10. Arturia SparkLE 420101 Hardware Controller and Software
Arthuria has produced the SparkLE which is hybrid instrument having the capability to combine the Spark engine software and a hardware controller and i.e. the sound and the workflow of the spark engine software that is combined.
Pros
+ This hardware controller comes equipped with a MIDI mode so it can be used with any software.
+ It has real-time programming from the pads that makes it really good for programming.
Why We Liked It –One of the best drum machines available in the market today.
Drum Machine Buyers Guide
Before buying your first drum machine you need to learn about its history and what really a drum machine is. As they say that smart spending really matters.
Lets figure out that what drum machine really contributes to your drum set. So basically a drum machine is designed to copy or follow the sound of drums, cymbals, various percussion instruments and bass lines. As a drum machine is an electronic music instrument it is most commonly used with home music or electronic music.
The main purpose of these drum machine is to replace a human drummer. For an instance, if your drummer is not present in the music session or you want to produce unique sounds which might be difficult for a trainee then you might think of getting your hands onto a drum machine.
So lets snap back to history and find out the origin of drum machines.
In between 1930-1932, a famous composer and music artist named Henry Cowell wants an instrument that could play multiple rhythmic patterns based on the overtone series, as it was hard to produce on an ordinary keyboard instrument. So Henry requested Leon Theremin to produce something that could fit into the scenario. So a famous invention came into existence which could deliver sixteen different rhymes at each pitch either by combination or individually. The product was titled as Rhythmicon. Soon they were kept aside by Henry and were forgotten by everyone.
After 25 years Harry Chamberlin introduced Chamberlin Rhythmate which was a tap loop-based drum machine. The machine had 14 tape loops with a sliding head that delivers playback of various tracks on each piece of tape. It contained speed/pitch control, an amplifier with bass, treble and volume controls and an input jack for connecting guitars or microphones.
After two years in 1959, an electromechanical drum machine named Sideman was brought into action by Wurlitzer. This drum machine presented 12 electronically generated rhythm patterns with variable tempos. The sound was created by a series of vacuum tubes which created 10 present electronic drum sounds. The sounds are sequenced by a rotating wiper which contains contact brushes that move smoothly around a phenolic panel with similar contacts arranged in a pattern of concentric circles across its face. They are spaced in specific patterns to generate parts of a particular rhythm. Combinations of sets can deliver different patterns. These combinations are selected by a rotary knob on the top of this drum machine. Temp is controlled by a slider which increases or decreases the wiper arm rotation speed.
During the 60s period, the rhythm machines got a huge update, transforming into a fully solid-state and desktop size from late vacuum tubes and electromechanical phenomena. In 1964 Seeburg invented a compact rhythm pattern which was fully transistorized with pre-programmed patterns. They became popular because of their compactness and robustness.
Machines before 1970s used sound synthesis instead of digital sampling to generate sound. For instances, bass drum sound was created by sine waves and the snare sound was delivered by bursting of white noise which didnt result very close to the real sound.
After an average period of drum machines in 1960s, Eko brought ComputerRhythm into the drum machine game. It was the first ever drum machine that could be programmed. It was built with a six-row push-button matrix that allowed the user to manually generate a pattern. It also featured a reader slot which could be used for pushing pre-programmed rhythm cards. Apart from this four machines were released by Boss, Ace Tone, Roland and PAiA that featured the access of programming the rhythmic patterns.
After the popular 70s period, a drum computer was introduced known as Linn LM-1 which was the first every drum machine that used digital sampling. Rhythmic concepts like swing factors, shuffle, accent and real-time programming were also included. The price point was around 5000$ and only 500 pieces were made but it had a great impact on music industry. 1980s pop sound is a living proof of it. The most drum sound on this drum machine was created by two chips that were trigger at the same time. Each voice was able to be individually tunable with individual outputs. In 1982 company launched a cheaper version known as LinnDrum. All sounds were not tunable but it included crash cymbal for a standard sound. Drummers were feared as these drum machines were really scratching up the drum game. Likewise, LM-1 the company named Oberheim unveil the DMX drum machine which featured digital sampling and swing feature. Other manufacturers also started to step up in the hot topic, SpecDrum by Cheetah Marketing introduced an 8-bit sampling drum which was quite affordable as it ranged under 30.
TR-808 was released by Roland but it wasnt embraced by the people as it didnt have digital sampling sounds. After it TR-909 was unveiled in the market which really made composers go crazy, it was trending in underground dances, techno, R&B, and hip-hop music. The price was relatively low and the unique characters of analogue-generated sounds really became a successor. It included five percussion sounds, the hum kick, the ticky snare, the tishy hi-hats and the spacey cowbell. Roland machines knocked down the Linn sound. Since then TR-808 and TR-909 are widely used in pop music up to this date. Hip hop, drum, and bass music have also included the kick drum from TR-808 because of its superb base and long decay. From the middle of 1980s, the TR-808 and TR-909 have been featured on more hit records than any other drum machine which gives it an iconic status in the music industry and in between the music engineers.
Early machines used various ways to synchronize rhythms to other electronic devices. Some used DIN-sync and same used Sync-24. Some also included analog CV/Gate output voltages to control along synthesizers or other equipment. DMX by Oberheim featured an Oberheim Parallel Bus interfacing system for synchronizing. Near 2000, standalone drum machines were replaced by hardware samplers which were controlled by sequencers, software-based sequencers, and sampling with the use of loops along with integrated sequencing and drum sounds. If you are looking to create real drum beat samples from your kit, consider investing in a microphone for your drums.
After leaping into the history of drum machines lets discuss programming of drum machines.
Programming in drum machines refers to create drum patterns by pressing the triggers pads as in a drum kit it was played using step sequencing. Like in a TR-808 or 909 a 16-step bar is given, the user can manually pick/set the numbers of steps and create sound. If a drum machine is equipped with MIDI connectivity than the user can easily program the drum machine.
Now you have learned about different types of drum machines and basic programming. So you shall proceed forward to pick your first non-living partner but wait for a while. As you have just stepped into this versatile industry you should be very careful while investing your money as a halfway choice can cause you in near future. So ride along as well be showcasing you three drum machines which will definitely suit every consumer. So without further ado lets get straight into it.
Music Critic's Top Pick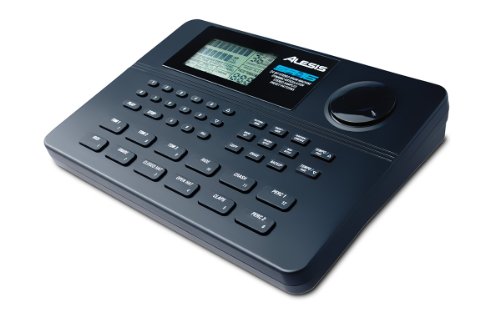 If you are the one who is building up his skills and want a professional partner in an average amount of deal then you have definitely found a happy medium.
Allow us to introduce you to one of the most popular drum machines ever made, the SR-16 by Alesis. This drum machine has been used widely among songwriters, remix engineers, and live performers. Out of the box, the SR-16 can be set up in minutes, there are tons of built-in rhythmic variations for composing complete arrangements and creating manual patterns. Likewise, the drum sounds are delivered in both dry and sampled form, the dynamic articulation feature enables drum sounds to change its tonal content as it is played harder.
Similarly, it features a great choice of 223 realistic yet amazing natural drum sounds that have been created to sound genuine which promises to break the barrier between an analog sound and a digital machine. Right out of the box you are getting programmed and quantized 50 present patterns that are played by top drummers. Creativity is not bounded as it also offers a complete MIDI implementation, a footswitch input, flexible programming, editing features and velocity-sensitive pad buttons so you can produce top notch music. It includes two footswitch jacks, stereo main, aux outs, headphone jack and a power supply.
With the likes of Dynamic Articulation, full MIDI support and 223 sounds the SR-16 by Alesis has really been a sensible choice.
Premium Choice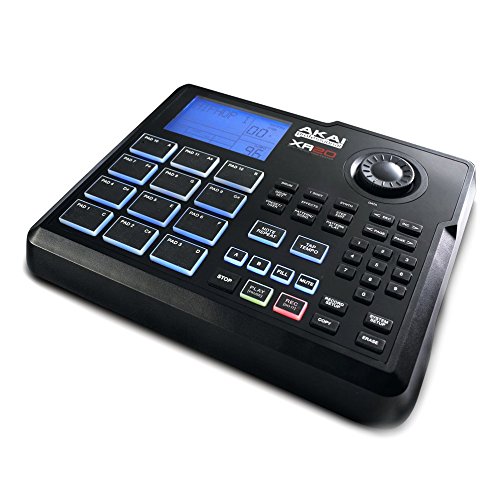 If you are an old-school musician who is looking forward to a new drum machine than we have got you covered.
Professional XR20 by Akai is a sensational drum machine that you might look for. XR20 is packed with pro-grade, industrial-strength drum, percussion, bass, synth, sound effects, vocal, and instrument hit sound which can really help you to get going with your professional work. The drum machine is equipped with over seven hundred sounds that are produced by Chronic music giving you the versatility of producing unique combinations. Likewise, it also has an integrated effects engine for delivering the most promising Reverb, EQ, and Compression giving you the opportunity for handling the full control of your beat.
Similarly, it includes 99 preset patterns and 99 user patterns for redefining your music experience. It also contains backlit LCD with backlit pads which are bright and glowing that follow the beat. For mixing your vocals and individual patterns it also has a microphone input along with a headphone jack. For maximum mixing in a minimum time, it features sounds of standard and electronic drums, single hits, bass, and synth. This drum machine has the capability to be powered by battery along with alternative current as it includes AC adapter. For creating a realism and expression it is rocking a drum roll and note repeat feature.
If you'd like a more acoustic sound, be sure to check out the top drum sets under $500 that are great value.
Akai Professional are known for professionalism. With the likings of more than seven hundred sound, 99 present and 99 user patterns, microphone input the XR20s by Akai professional have really dug a deep space inside our hearts.
Great Value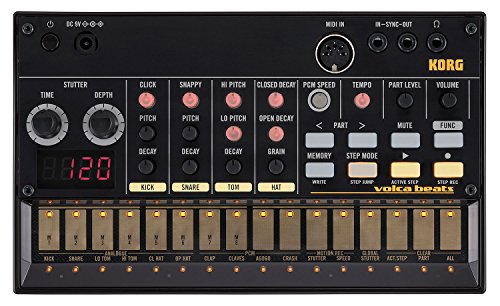 You should get what you have paid for, right? Drum machines in the market tend to sound heavier on the budget as compared to what they really serve. Well showcase you a drum machine that really fits into the phase of value for money.
The Volca Beats Analog Rhythm Machine by Korg has a reputation of delivering the unforgettable classic sounds with six analog and four PCM-based drum parts. The step sequencer is designed to make editing uncomplicated and to let you add or remove parts without practicing it. The electric-style 16-step sequencer with eight memory patches can be used to enter notes while monitoring the timing of the notes within the measure, you can also play touch panel keyboard to record in real time. Likewise, it provides a minimal set of parameters for creating a drum sound of your choice. Similarly, it is equipped with a PCM sound engine which covers unsuited sounds of an analog synth like the clap, crash, claves etc. The engine is also carved to reproduce the rough lo-fi sound from the 80's. Clock syncing of multiple instruments from the volca series is made easy by syncing in and syncing out. Similarly, the stutter is included for glitching or delaying like effects. The drum machine has a compact size, it is battery powered and has a built-in speaker, and it can be transported easily and plugged using a DC 9V power cord. Volca beats provide six exclusive analog sounds which are Kick, Snare, Hi Tom, Lo Tom, Closed Hi Hat and Open Hi Hat. It also includes the functionality of MIDI In for note entry, plus external sync and control from your DAW.
In an affordable price range, you are experiencing exclusive sounds which can only be produced by an analog rhythm machine.
Things to consider when buying a drum machine
Some things in the world could never be replaced and the same goes for a human drummer. The magical rolls that a human drummer can create are nowhere to be found by any electrical equipment. Therefore the need of a good human drummer will always be there and the drummers who think that the drum machines could replace them should really work on improving their drumming technique.
Although the drum machine is not as good and can never be as a human drummer, but reliability and the versatility that it has on offer for its users make it quite handy and useful at the same time. The drum was introduced in 1959 and since then have come a very long way. It has some widespread uses in the modern times such as in keyboards, amplifiers, effects pedals and music production apps. It could be stated about the stand-alone drum machines that their popularity has decreased in the modern times.
Although there is a decrease in the demand of these drum machines but there are quite a few people that are still in love with these machines and that is why these machines are available in numbers when you look into the market. Since you have so many options available at your disposal it really becomes a task to pick the best one out.
Therefore before going for any drum machine there are some key factors to be considered and these key factors are budget, patterns, voices and flexibility, responsiveness and controls and reliability and portability.
But first we need to understand the methodology behind all the good drum machines and it is pretty simple any drum machine that can work alone like a stand out drum machine without a computer is termed as a good drum machine.
Now let us discuss the factors that are important to consider before buying a drum machine.
Budget
Now, this is the most important thing to consider before buying any drum machine and it is so important because it has a pretty extreme variation. There are drum machines in the market ranging from $200 and going up till $3000. Therefore making up a clear mind about the budget that you have for a drum machine is really necessary. Well as is rightly said that quality comes with a price and it is no different when talking about the drum machines too. The more you are going to spend on it in terms of money the better it is going to be.
One thing is essential in this regard and that is what you want from your drum machine you will find a lot of features and specifications in a drum machine that is quite expensive that may be quite useless for you so there is no point in having a pretty expensive drum machine that you cannot use completely. Similarly do not underspend as well, if you just want to save money without noticing the quality of the drum machine, you may be able to get a pretty cheap one as well but if it breaks within 2 days of use there is no point in having one of these cheap drum machines. Click here for more drum kit related reviews.
Patterns, Voices, and Flexibility
The more you have of these the better is going to be the drum machine. One important factor in this regard is to consider that you should not go for the one that has too many patterns or voices if you are a beginner because then you will end up spending time with these which you would have rather spent on creating music. There are different music styles and genres you should select the one that is good for almost all the genres, any drum machine that basically covers all these basic genres is considered to be a good drum machine. There are some drum machines that are specifically designed to suit a particular genre like hip hop, so you have to be very peculiar of your own taste. There are some drum machines available in the market that come equipped with features like advanced sequencing and voice shaping, these are meant for those who want to create really complex patterns.
Responsiveness and Controls
The controls are something that is just a matter of the personal preference; some may like the drum machines having the simplest of the controls while the other may go for some in-depth control options. Therefore considering what you actually want from your drum machine in regards to its control is really important. When talking about the responsiveness of controls, it does matter a lot, if you are someone who has a taste for dynamics and realism, the drum machines with velocity sensitive pads are a good option.
Reliability and Portability
Well before going for anything in the world the most important factor that you or anyone considers the reliability of the product and the same goes for the drum machines as well. You will never want your drum machine to break into pieces after a couple of weeks of use. Therefore selecting the one that is reliable is very important. When talking about the portability of the drum machines it is also important but it is hard to find a drum machine that offers both i.e. reliability and portability of the top quality at the same time. This is because when you talk about the reliability, the more reliable ones are made up of metal chassis and are pretty heavy, while if you want your drum machine to be an easily portable you will want to have the ones that are lighter in weight. The lighter weight drum machines are usually made up of plastic and therefore their reliability is a bit compromised.
The size also plays an important role in the portability of the drum machine, you do not want to have a drum machine that is too big in size because then it would be really difficult to take it from places to places.
Digital Compatibility
It is important for any drum machine that it should have a number of HDMI ports. You will not be playing the drum machine on its own rather it will be played along with different instruments and to make it work along with these different instruments what you need are the HDMI ports.
It is really important for a drum machine to be equipped with MIDI input and outputs before explaining the reason for it, we will discuss what MIDI actually is. Musical Instrument Digital interface this is what MIDI stands for and to have a better understanding of it, you can consider the example RS-232 bus used by computers. Click here for the top audio interfaces for your money. When you want your one device to control another device that is where the MIDI helps in by providing serial digital protocol, through this, you can also send data i.e. synchronization or configuration data from one device to another. So that A MIDI input and output is really essential for any drum machine because without it, you would not be able to use the drum machine in a proper manner.
How do drum machines work and their origins?
People have a common misconception about the drum machines that they have been introduced to eliminate a human drummer and this is so not true what you can get from a human drummer you will not be able to get ever from a drum machine. The drum machines are used to help someone to compose home music or are meant for those who cannot afford a cost of a real drummer the drum machines can neither replace a drum set nor a drummer. If you think that drum machines can pose a bit of a competition to you as a drummer I am afraid you really need to work on your drumming.
1960 is considered to be the year in which the first commercial use of the drum machine was witnessed but when talking about the origin of a drum machine there is a completely different history attached to it. A Russian inventor known as Leon Theremin invented the drum machine or what you can call the drum machine and he did it at the request of an American composer known as Henry Cowell and all this was done in the 1940s. Leon Theremin named the first drum machine as the Rhythmicon. So it could easily be said that Rhythmicon was the first device that can be considered as a drum machine and it lead to all the modern drum machines that we see now.
Well, to understand how the drum machines work we will take up the example of the very first of its kind i.e. the Chamberlin Rhythmate invented by Harry Chamberlin, well it is hard to believe that a person who was an engineer by profession invented what we call the modern drum machine now. A person who got famous in the World War II, because in this war the Boeing B-29 Superfortress got its electrical system engineered by Harry Chamberlin.
Although he was an engineer by profession, but at the same time a music lover as well. Since this guy was a music lover wanted to his parents to listen to him playing the organ and that is why in the year 1949, when he was 47 years of age he bought a tape recorder so that it could help him in his task and while sitting next to his tape recorder and pressing its buttons he lead to the invention of first multi-instrument keyboard.
But this was not the only invention that he did he is also known for inventing the first drum machine, the Rhythmate. It enabled the users to get different beats of acoustic jazz drum, it had 14 tape-loops for the user to select the different beats he wants, and the interesting thing about this drum machine was it never had any buttons or keys. So there you go now you have the understanding of how a drum machine works the dynamics have really changed but the basic module is still the same.
Drum Machines for Beginners
When you are going for a drum machine as a beginner there is one thing that should be taken into consideration greatly and this main thing that you should always consider before going for a beginner drum kit or drum machine is the versatility it has on offer. The drum machine that you are going for as a beginner should be able to suit all the different styles of music because as a beginner you are not certain that what style of music you will stick to therefore going for the one that offers a lot of different styles is very important. It should also have all the sonic qualities to suit all the different styles as well.
The three best drum machines available in the market for the beginners are listed below.
Korg VOLCABEATS Analog Rhythm Machine
Alesis SR18 Drum Machine
Akai Professional MPK25
If you are looking to get the best drum machines as a beginner all the above three mentioned drum machines should be the ones you can easily go for. All these three drum machines have all the qualities that will satisfy the needs and requirements of a beginner. The learning is the key factor that you look in any instrument as a beginner and all these three drum machines offer great learning equipped with great sound quality at the same time. As a beginner, you do not want to spend a huge amount of money on an instrument because you never know when your love for that particular instrument is going to fade away, therefore it is advisable that the instrument you are going for should not be very expensive. All the above-mentioned drum machines come in at pretty nominal rates and it can be stated about these drum machines that they certainly serve as the best buck for your money.
All the above-mentioned drum machines are equally good and selecting the best one for yourself is just a matter of your personal preference.
If you liked this review, please leave a positive rating: