1-v-1 Product Comparison - the Quik Lok VP-2611 Volume Pedal vs the Fender FVP-1 Volume Pedal
See how the Quik Lok VP-2611 Volume Pedal stacks up against the Fender FVP-1 Volume Pedal in today's product comparison. Not sure which is right for you? With so many great options on the market that's hardly surprising, so read on and see if we can help you reach a decision. If you enjoy this article, you can also check out the full version here.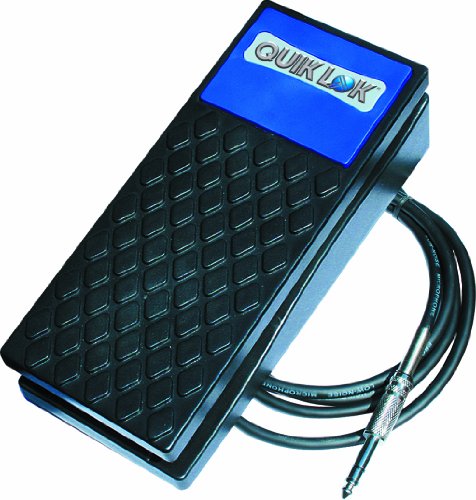 The first product we will be looking at is the Quik Lok VP-2611 Volume Pedal. If you're looking to make a steal or simply not shell out hundreds of bucks on a volume pedal, then this is ideal for you. It's got a super low price tag, but we found it to deliver a huge amount of quality. When it comes to value-for-money, then few other products can compete with this one.

The challenger is the Fender FVP-1 Volume Pedal. Next up is a pedal that's a bit different from the previous models we've looked at. It's a big, chunky unit that's tank-like. That makes it a superb choice for anyone who wants sturdiness and durability. The second thing that is different about it is the impact that it has on your tone. When you lower the volume, it enhances the high frequencies to create an effect that should be heard to be appreciated. That means that it doesn't simply alter your volume, as it acts as an effects pedal too.
Taking a look at the features of the Quik Lok VP-2611 Volume Pedal
Purchasing this product is low risk. It is suitable for experimentation. So, if you've never owned one of these pedals before, then it's a cheap option that allows you to practice with it. It is surprisingly durable for the price too. And we were big fans of how it sounded.
Examining the Fender FVP-1 Volume Pedal
It is made of aluminum, unlike many of the budget, plastic models that we've looked at. Once again, this enhances the durability of the product. It truly is built to last and to withstand a lot of heavy use.
HEAD TO HEAD COMPARISON

Quik Lok VP-2611 Volume Pedal

Fender FVP-1 Volume Pedal

KEY FEATURES

+ Very affordable
+ Easy to use
+ Sturdy



+ Passive volume pedal (no power required)
+ Aluminum casing
+ Tuner outputs



WHAT OUR TEAM THOUGHT

It's a sturdy little volume pedal that does what it needs to without any frills. You can't argue with the price tag either. For anyone on a budget, this product should be considered.

It's a sturdy, durable pedal that's loaded with lots of useful features. For example, it doesn't require batteries and it has a tuner jack so that you can conveniently tune your guitar while you're on stage. The best feature of this product, however, is the awesome way it changes your guitar's tone. You're always guaranteed quality with Fender, and this product is no exception.
Discover more
Also see Music Critic's article The 9 Best Volume Pedals which includes even more information.
Similar head-to-head comparisons: