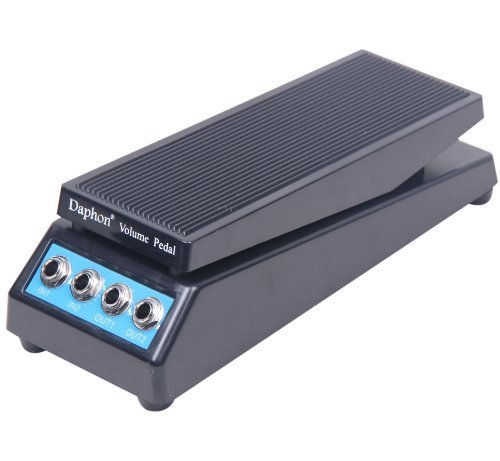 Next up is another bargain for those of us that aren't ready to commit to a pricey volume pedal just yet. It is a very basic product that is ideal for beginners. It can also suit guitarists who don't use a volume pedal often but would like to have one for tunes that call for it. No battery is required. You can even use it for two instruments at the same time thanks to the dual outputs.

The second to last on our list is an absolute beauty. It's called 'Little Alligator' and it certainly has some bite to it. Not only does it deliver exception sound quality, but it is also very sturdy. It looks good too. Some other great features include the electro-optical circuitry and the battery compartment, which features an LED indicator.
It does what it says on the box. For beginners, we think it delivers enough quality. It might not suit more advanced guitarists. Nor is it suitable for touring with. For rehearsals or at-home practice sessions then it should be tough enough. Overall, it's another great budget choice that has a minimum volume setting that can come in very handy.
This optical volume pedal comes with a 2-year warranty, which we think says a lot about the confidence Morley has in it. They wouldn't offer such a long warranty if these things regularly broke and they had to replace them. Still, if something did go wrong with it, you wouldn't have to worry, as that warranty would have you covered.
HEAD TO HEAD COMPARISON

Signstek Guitar Stereo Sound Volume Pedal

Morley PLA Steve Vai Little Alligator Volume Pedal

KEY FEATURES

+ Cheap
+ Easy to use
+ Good for beginners
+ Minimum volume setting



+ Fun design
+ High quality
+ Easy to use
+ Has electro-optical circuitry



WHAT OUR TEAM THOUGHT

It's easy to use, features a minimum volume setting, and delivers adequate sound quality. For the price, it's a good choice for anyone hunting for a bargain. And it's also perfect for beginners, we think.

It's a quality volume pedal that delivers quality across the board. We're big fans of Steve Vai, and we can understand why he'd be willing to put his name on this super product. It's also one of the coolest-looking products that we came across. A solid choice.