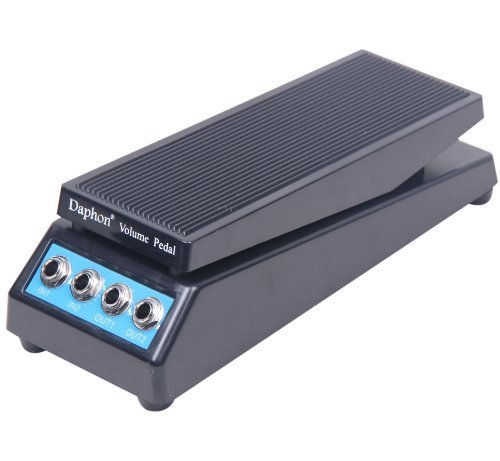 Next up is another bargain for those of us that aren't ready to commit to a pricey volume pedal just yet. This is a very basic volume pedal that is good for beginners or maybe guitarists that don't use a volume pedal very often but would like to have one at home for those times when you just have to have one. No battery is required, which is nice. You could even use it for two instruments at the same time.

Second to last we've got an alligator of a volume pedal for guitar. But the funny name is not even the best thing about this volume expression pedal. It is extremely high-quality and very sturdy, as well as good-looking. It has electro-optical circuitry and the battery compartment features a LED indicator.
This is a pedal that does what it says on the box and that many beginners would be happy with, but if you're a picky guitar player it might be better to save up for something more expensive and get a volume expression pedal that you really like. But as we said, if you're a beginner that just wants something that works, go for it!
This Morley little alligator optical volume pedal comes with a 2-year warranty, which we think says a lot about the confidence Morley has in it. I mean, they wouldn't offer such a long warranty if these things regularly broke and they had to replace them. Still, if something would be wrong with it, you don't have to worry, unless it's something you've done that has caused the breakage.
HEAD TO HEAD COMPARISON
Signstek Guitar Stereo Sound Volume Pedal
Morley PLA Steve Vai Little Alligator Volume Pedal
KEY FEATURES
+ Cheap
+ Easy to use
+ Good for beginners
+ Minimum volume setting


+ Fun design
+ High-quality
+ Easy to use
+ Has electro-optical circuitry


WHAT OUR TEAM THOUGHT
The pedal is easy to adjust and you can set the minimum volume underneath the volume expression pedal.
This Morley little alligator pedal is very easy to use and it just does everything you want it to do!