Select and Compare: Donner Wah Cry Volume Pedal to the Ernie Ball VP Jr. P06180
Trying to decide between two models? You might think it all comes down to the price, but frankly there is a lot more to it. For more information and product comparisons, check out our longer article here.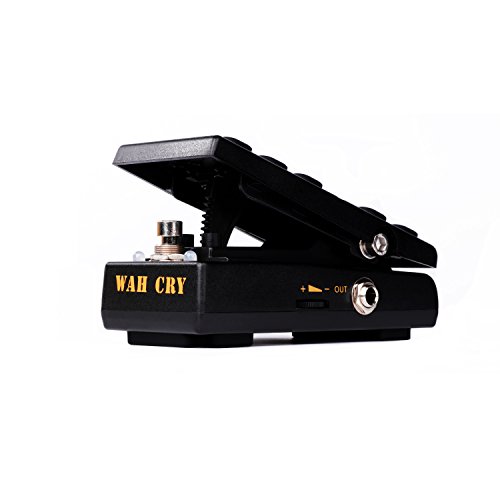 First, let's have a look at the Donner Wah Cry Volume Pedal. There's no better bargain that getting two products for the price of one. And, if you're a fan of such value-for-money deals, then you're going to like Donner Wah Cry Volume Pedal. It's a compact piece of kit that acts as both a volume and a wah pedal. Both of these functions work extremely well, in our opinion, which is why this Donner product has topped our list.

The second product we are looking at in this head-to-head review is the Ernie Ball VP Jr. P06180.
A deeper look at the features of the Donner Wah Cry Volume Pedal
The small size means that it won't take up much space on your pedalboard. We found it to deliver exceptional response too. The volume function is designed so that your sound remains very detailed when it's on. That's a great feature, in our opinion, as you can use it without your playing being compromised.
HEAD TO HEAD COMPARISON

Donner Wah Cry Volume Pedal

Ernie Ball VP Jr. P06180

KEY FEATURES

+ Volume and wah functions
+ Compact size
+ Keeps every detail of your sound



+ Works like a charm
+ Sturdy
+ Your foot won't slide off
+ Tuner jack
+ 100% volume control



WHAT OUR TEAM THOUGHT

It's a versatile product that is ideal for guitarists who have yet to build up their pedalboard. The fact that it provides a volume and a wah function are a big plus too. And the compact size is useful for transport, as well as for keeping clutter down when you're on stage or in the studio. It's an excellent, all-round pedal that delivers superb value-for-money. A solid investment.

For beginners and pros alike, this is a sensation volume pedal that is user-friendly, versatile, and loaded with features. The best feature in our opinion is the sturdiness of the unit. We also like the sandpaper-like top, which ensure that the sole of your foot doesn't slide off when it's being used.
Read our full review
You might also be interested in Music Critic's in-depth article on this topic, The 9 Best Volume Pedals.
Other product comparisons: