How do they stack up? The Ernie Ball MVP Most Valuable Pedal vs the Valeton EP-2 Guitar Stereo Sound Pedal
See how the Ernie Ball MVP Most Valuable Pedal stacks up against the Valeton EP-2 Guitar Stereo Sound Pedal in today's product comparison. Find out what separates these two items with the full comparison review below. This product comparison article is just one in a series titled The 9 Best Volume Pedals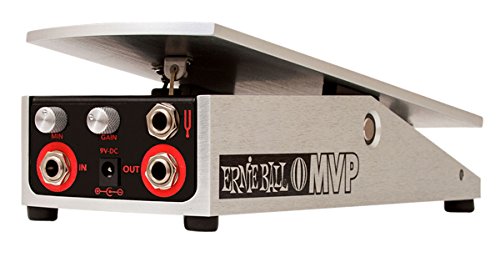 The first product we will be looking at is the Ernie Ball MVP Most Valuable Pedal.

Next let's have a look at the Valeton EP-2 Guitar Stereo Sound Pedal. Sometimes we don't have very much money to spend, and sometimes we just don't feel like it, when we can actually get a product that does the same thing as the big brands for half the money or so. Valeton's EP-2 stereo volume pedal is a really good option for any guitar player that wants to buy a reasonably priced pedal with a fun color that will last you for years to come and does what it says on the box.
Taking a look at the features of the Valeton EP-2 Guitar Stereo Sound Pedal
This stereo volume pedal works without a pedal power supply, no matter if you want to use it for your guitar, bass guitar or some other digital instrument. The Valeton EP2 Passive volume expression pedal is lightweight and made from hard plastic, but it's still sturdy and seems to be very durable, which is important if you will be using it a lot.
HEAD TO HEAD COMPARISON
Ernie Ball MVP Most Valuable Pedal
Valeton EP-2 Guitar Stereo Sound Pedal
KEY FEATURES
+ Volume/overdrive pedal
+ Works anywhere in the signal chain
+ High-quality


+ Affordable
+ Compact
+ Durable
+ Works without power supplies


WHAT OUR TEAM THOUGHT
This Ernie Ball MVP most valuable pedal is one that many people love, because it just does exactly what you want it to do, and both beginners, intermediate and advanced guitarists use it.
This is a great stereo volume expression pedal for beginners to intermediate guitar players, or maybe musicians who have the electric guitar as a second instrument they want to be able to play once in a while.
Discover more
Also see Music Critic's article The 9 Best Volume Pedals which includes even more information.
Related head-to-head product reviews: