How do they stack up? The Ernie Ball MVP Most Valuable Pedal vs the Valeton EP-2 Guitar Stereo Sound Pedal
See how the Ernie Ball MVP Most Valuable Pedal stacks up against the Valeton EP-2 Guitar Stereo Sound Pedal in today's product comparison. Find out what separates these two items with the full comparison review below. This product comparison article is just one in a series titled The 9 Best Volume Pedals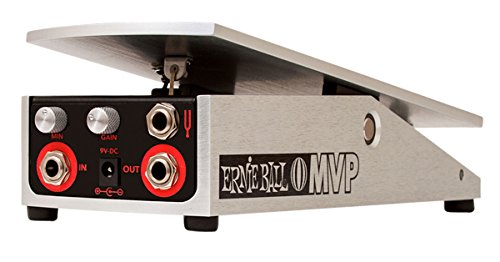 The first product we will be looking at is the Ernie Ball MVP Most Valuable Pedal.

Next let's have a look at the Valeton EP-2 Guitar Stereo Sound Pedal. Valeton's EP-2 stereo volume pedal is a good option for guitarists who want to get great value-for-money. It's also ideal for anyone who likes their musical gear to be colorful. The bright orange exterior is certain to catch some eyes. But it's not over-the-top too.
Taking a look at the features of the Valeton EP-2 Guitar Stereo Sound Pedal
It works without a pedal power supply, regardless of if it is used for an electric guitar, bass, or a different digital instrument. It is lightweight, as it is made from hard plastic rather than metal The plastic doesn't harm the sturdiness of this pedal, though. It is very durable. If you want the volume pedal to be able to withstand a lot of use, then this one is a good option. When the price is considered too, then this is just an excellent product.
HEAD TO HEAD COMPARISON

Ernie Ball MVP Most Valuable Pedal

Valeton EP-2 Guitar Stereo Sound Pedal

KEY FEATURES

+ Volume and overdrive pedal
+ Works anywhere in the signal chain
+ High quality



+ Affordable
+ Compact
+ Durable
+ Works without power supply



WHAT OUR TEAM THOUGHT

It's a superb product that delivers exceptional quality. We loved how durable it was too. It's built to last and both features work extremely well. No matter what level you are, we think you'll love this pedal.

It is a great stereo volume expression pedal for beginners to intermediate guitar players. It's also suited to musicians who use an electric guitar as a second instrument and just want a volume pedal for the rare times they play it. Above all else, this is a durable little unit that delivers superb value-for-money.
Discover more
Also see Music Critic's article The 9 Best Volume Pedals which includes even more information.
Related head-to-head product reviews: