1 on 1 Testing
In this comparison we put the Behringer UT300 and Source Audio SA243 head to head in a battle to find out which wins the specifications war. You might think it all comes down to the price, but frankly there is a lot more to it. For more information and product comparisons, check out our longer article here.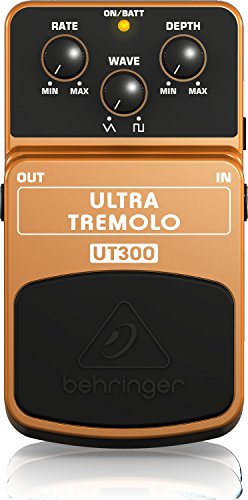 Contestant number one is the Behringer UT300. With its dedicated dials the Ultra Tremolo UT300 makes certain you can tailor a top notch tremolo effect to suit your needs. Modeled to provide classic 50's/60's surf sounds we all know and love. Emulating vintage amp pulsations and playing homage to rockabilly, space-rock and everything in between. It is clearly labeled and user-friendly, making it an ideal guitar effect pedal for those starting out. Easily adjust the wave, rate, and depth controls to your taste for lush modulation that help create a mood on stage. It is of compact size so wont hog your board. The on/off switch maintains integrity whilst bypassing.

Now we will have look at an alternative, the Source Audio SA243. The Vertigo tremolo guitar effect pedal from Source Audio is a versatile tremolo device. The three tremolo styles include Bias which recreates a sweetly over-driven wiggle, typical of vintage tube-bias modulation. Inspired by old school 'Vox Tremolo'.
Taking a closer look at the features of the Source Audio SA243
The Harmonic tremolo settings are reminiscent of Fender vibrato effects that bounce to and fro between high and low frequency producing a rapid sway. The Opto delivers a delectable thumping a distinct, amplitude modulation affect employed by optocouplers in vintage fender guitar amps. Choose between Sine, Saw, Opto or Square to shape the LFOs for added tone control flexibility.
HEAD TO HEAD COMPARISON

Behringer UT300

Source Audio SA243

KEY FEATURES

+ Good range of sounds for a basic model.
+ Status LED's provide an idea of battery life.
+ Good budget tremolo pedal option.



+ It is a fully featured expression pedal with a host of honest tremolo modulations in one box.
+ Free Neuro mobile App for access to hybrid modulations and addition tremolo patterns.
+ When using the MIDI capabilities with Nuero Hub you can save up-to 128 presets.



WHAT OUR TEAM THOUGHT

One of the cheapest pedals on the market from a brand you can trust, Behringer have designed this fundamental tremolo pedal to compete directly with leading products on the market at a fraction of the cost with zero sound compromised.

This Tremolo guitar effect pedal pays homage to some classic vibes, It is reasonably priced to begin with and it's compatibility with the acclaimed Neuro Hub provides buyers with the opportunity to really create unique tremolo effects.
Would you like to know more?
You might also be interested in Music Critic's in-depth article on this topic, The Top 10 Best Tremolo Pedals.
See more head-to-head comparisons of products: