Compare the Wampler Latitude Deluxe V2 to the Fulltone Supa-Trem ST-1
Music Critic review products for everyone, from professionals to enthusiasts, and are written in plain English to make it easier to understand the options available and decide between them. Our tests and reviews can help point you towards models and brands that suit your needs. If you find this article interesting, you might also want to read The Top 10 Best Tremolo Pedals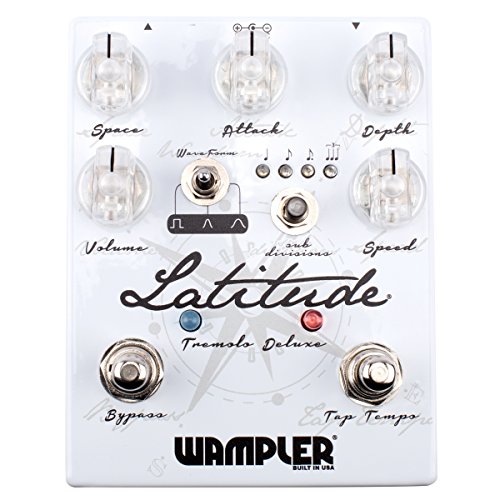 First, let's have a look at the Wampler Latitude Deluxe V2. The all-American Wampler Latitude deluxe tremolo pedal has a few more controls to fiddle with, which should be expected of a deluxe model. In addition to common speed (rate) and depth controls it features space, attack, and level to play around with the core tone of the tremolo.

And now we will have a look at our second product, the Fulltone Supa-Trem ST-1. This sweet tremolo effect pedal contains a photo-cell (or octocoupler) usually employed in vintage American tube amps. Replicating the same circuitry as the famous Fender vibrato pedals tones without a interfering tickling sound.
Taking a closer look at the features of the Wampler Latitude Deluxe V2
The Wampler Latitude tremolo makes for a great modulation pedal, capable of producing consistent classic tremolo tones as well as modern stutters and chops. Choose between 3 sound wave settings; sine waves, peak waves, and square waves and tweak fraction by fraction for a multitude of desirable effects.
Let's take a closer look at the Fulltone Supa-Trem ST-1
The Fulltone Supa-Trem ST-1 benefits form a half/full tempo foot switch and in addition to Speed and Mix dials (which control the rate and intensity within the mix) it has a secondary foot control presenting guitar player with the opportunity to switch between 'hard' for choppy machine gun, helicopter vibes and 'soft' for pleasing wavering tremolo tone.
HEAD TO HEAD COMPARISON
Wampler Latitude Deluxe V2
Fulltone Supa-Trem ST-1
KEY FEATURES
+ Volume knob control to make sure subtleties aren't lost in the mix.
+ Relay true bypass.
+ Speed control that sets peaks per minute.


+ Volume knob for extra boost.
+ Photo-cell for wider range of flexibility over the wave-forms.
+ Double foot switches.


WHAT OUR TEAM THOUGHT
The additional parameters that can be changed give the user more authority over the sound effect they are looking to procure, the Wampler Latitude deluxe tremolo pedal offers a range of different tremolo styles from the less invasive to tense helicopter chopping.
The Fulltone Supa-Trem ST-1 employs vintage octocouplers, better providing that creamy, thick tube-bias texture to your tremolo choice as well as great tone boost with its additional 15 decibel gain. See the Fulltone Custom Shop Supa-Trem ST-2 as an alternative.
Read our full review
You may also be interested in our article The Top 10 Best Tremolo Pedals.
Similar Product reviews: