Side-by-side comparison
See how the Boss TR-2 stacks up against the Earthquaker Devices Hummingbird V4 in today's product comparison. You might think it all comes down to the price, but frankly there is a lot more to it. You might also be interested in our article The Top 10 Best Tremolo Pedals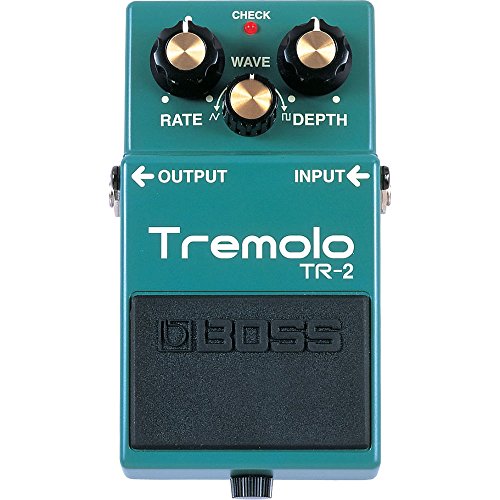 Let's get started by taking a close look at the Boss TR-2. Notorious for their well produced durability this tremolo pedal from Boss is an worthy addition to your pedal board. Whilst the Boss TR-2 Tremolo pedal doesn't offer any custom extras it delivers dependable sound at an affordable price on Amazon.

And now we will have a look at our second product, the Earthquaker Devices Hummingbird V4. Earthquaker Devices are one of the most popular pedal manufacturers they produce top quality effects and the hummingbird is no exception. This all analogue true bypass tremolo pedal has been modelled on vintage 'repeat percussion' units. Delivering an array of tremolo tones from glimmering, classic warbles to high rate chops that have an intriguing synth-like 'bit rate' quality.
A closer look at the Boss TR-2
The Boss Audio TR-2 is an especially good tremolo pedal if you are after something easy to use. You can play with your rate control and depth to fine tune the strength of a precise characteristic. The rate knobs can be adjusted higher than previously allowed on the sought after Boss PN-2 model. The wave dial changes the LFO from a common triangular wave to a square one in an incremental, hassle-free manner.
Taking a look at the features of the Earthquaker Devices Hummingbird V4
Simple to adjust it offers 3 modes (slow, mid, and fast tempo) you can adjust the rate and depth in each mode to your preference the level control makes it easy to boost or cut the signal. It becomes a JFET clean boost when Depth is set at zero. The additional features really set this tremolo guitar effect pedal apart from the rest. Offering vibes from the subtle to ridiculous, this vintage tremolo guitar pedal truly has something to suit everyone's tastes.
HEAD TO HEAD COMPARISON

Boss TR-2

Earthquaker Devices Hummingbird V4

KEY FEATURES

+ User friendly controls.
+ Compact footprint (fits most boards.)
+ Square wave for a truly overt chopping effect.



+ New flexi-switch for momentary or traditional latching operation.
+ Silent relay-based switching.
+ Level control and voice control to help prevent drops.



WHAT OUR TEAM THOUGHT

The Boss Audio TR-2 tremolo pedal is a great example of of a 'no-frills' guitar effect pedal from an esteemed and reliable company which provides adequate adjustment capabilities. Boss pedals are world-renowned and rightly so!

The Hummingbird is one of the best all analog tremolo pedals. It has been expertly hand-made to a high specification for a better quality than mass produced rivals, it offers a versatile tremolo sounds and its analog circuitry providing a more authentic homage to vintage tremolo tones. You may also be interested in our review of the top analog delay pedals.
Want to find out more?
You may also be interested in our article The Top 10 Best Tremolo Pedals.
Similar head-to-head comparisons: