Side-by-side comparison of the Behringer Vintage Tube Overdrive TO800 and the Fulltone OCD Obsessive Compulsive Drive
We take a look at two popular items, the Behringer Vintage Tube Overdrive TO800 and the Fulltone OCD Obsessive Compulsive Drive. You might think it all comes down to the price, but frankly there is a lot more to it. This article is part of a series called Top 10 Overdrive Pedals for Great Metal Sound in 2023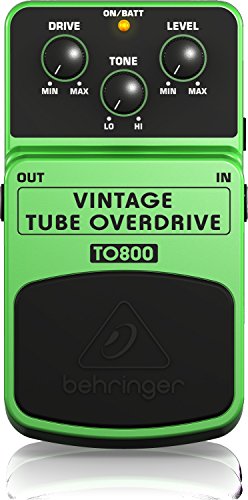 Everyone has different preferences, and we hope our frank reviews will make your decision easier. First, we will take a look at the Behringer Vintage Tube Overdrive TO800.

Next up is the Fulltone OCD Obsessive Compulsive Drive. With the funniest name on the list this pedals smiles its way in to our heart. 'OCD' implies that it will not accept any flaws, and it doesn't. There is something about it that makes us want to open our wallets. The lovely name aside, it is a really good pedal. It promises gorgeous overtones and it delivers. This might be the pedal you have been looking for if you feel like you've tried everything else.
Examining the Fulltone OCD Obsessive Compulsive Drive
It has become somewhat of a classic that most people feel the urge to have on their pedal board. It is like an old friend that you can always rely on that will never fail you. With the turn of a knob, you can achieve a light, full tone to a blasting high gain that knocks you off the chair. We're also thinking this might be a great gift to any guitar player who suffers from real OCD.
HEAD TO HEAD COMPARISON

Behringer Vintage Tube Overdrive TO800

Fulltone OCD Obsessive Compulsive Drive

KEY FEATURES

+ Highly affordable
+ Good sound for the price
+ Great looks



+ Extraordinary sound quality
+ Cool design with funny name
+ A classic that always delivers

WHAT OUR TEAM THOUGHT

It's an absolute steal and delivers the same quality as expensive pedals for a fraction of the price. It's a good choice if you want to experiment with an overdrive pedal before you spend a small fortune on a more advanced product made by a big brand. Then again, this pedal is easy to fall in love with, and you might end up sticking with it long-term. The extra money you save can be used to buy a different type of pedal such as a looper pedal (click here for full guide).

When in doubt, go for the OCD-pedal! It is a reliable option for any musician, from beginners to professionals. The sound quality is wonderful, and the construction of the pedal is sturdy. A versatile, good looking pedal that we can highly recommend.
Read our full review
Check out our article Top 10 Overdrive Pedals for Great Metal Sound in 2023 for more info.
Similar Product reviews: