1 vs 1 Comparison
In this comparison we put the Greer Amplification Lightspeed and Nady TS-30 Tube Sound Overdrive Pedal head to head in a battle to find out which wins the specifications war. Not sure which is right for you? With so many great options on the market that's hardly surprising, so read on and see if we can help you reach a decision. If you would like to see more product comparisons and reviews in this category, click here.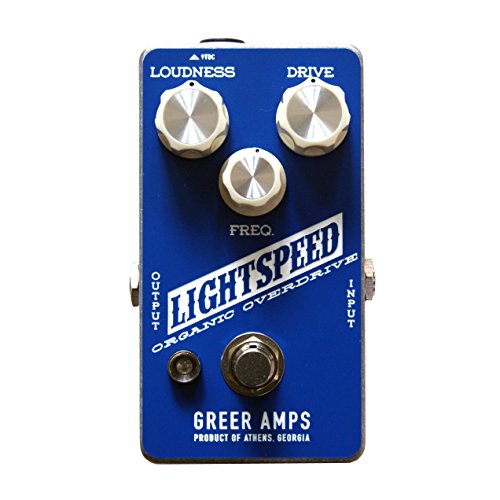 Everyone has different preferences, and we hope our frank reviews will make your decision easier. First, we will take a look at the Greer Amplification Lightspeed. Our top choice today is this wonderful pedal from Greer Amplification. It is referred to as an 'organic' pedal because of the natural sound quality it produces. It delivers a nice, clean sound that suits guitar players who want a natural light to mild overdrive.

Next up is the Nady TS-30 Tube Sound Overdrive Pedal. This overdrive pedal from Nady offers good value for your money as it is pretty cheap but very good quality. That great tube distortion you've been looking for? You've found it! It offers a warm, natural tone and it is good for all kinds of modern genres.
Let's take a closer look at the Greer Amplification Lightspeed
The pedal is very high quality, handmade in the U.S.A. and it even comes with a lifetime warranty, which makes it a secure investment. We have no concerns over durability, though, and it feels like it will perform well long-term without any issues, even if it gets knocked about during transit.
Let's take a closer look at the Nady TS-30 Tube Sound Overdrive Pedal
The design has a vintage vibe to it which makes it look much older than it is. It is blue with all metal casing which means that it will probably last long, no matter how much you travel with it. It even runs on a 9V battery if needed. This is a nice option if you want to go for a durable but relatively cheap pedal.
HEAD TO HEAD COMPARISON

Greer Amplification Lightspeed

Nady TS-30 Tube Sound Overdrive Pedal

KEY FEATURES

+ Organic, natural sound
+ Sensitive to pick attack
+ Lifetime warranty



+ Affordable pedal
+ Cool vintage design
+ Quiet foot switch



WHAT OUR TEAM THOUGHT

This Greer pedal delivers clear, natural sound that suits all genres of music. It's also a durable product that comes with a lifetime warranty. Overall, there's little to fault this pedal, which is why we rate it as the best on the market.

Durable and sturdy, nice design, good price, and best of all- good sound! We especially like the quiet foot switch and the blue color. The fact that it also runs on battery is a plus as well. In other words, a good budget option for all kinds of guitarists.
Discover more
Check out Music Critic's in-depth article Top 10 Overdrive Pedals for Great Metal Sound in 2023 which includes even more information.
Related product comparisons: