Side-by-side comparison
We take a look at two popular items, the Maxon RTD800 Real Tube Ovedrive Pedal and the MXR EVH5150. Find out what separates these two items with the full comparison review below. If you find this article interesting, you might also want to read Top 10 Overdrive Pedals for Great Metal Sound in 2022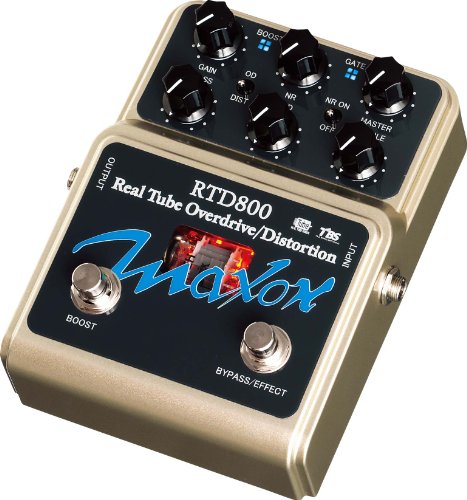 Contestant number one is the Maxon RTD800 Real Tube Ovedrive Pedal. If you're the type of guitarist who doesn't like to be tied down to one genre of music, then we think you might like this pedal. It doesn't just deliver overdrive, as it's also a distortion pedal, meaning that with the same product you can achieve everything from a romantic love song to a death metal headbanger. As it delivers these two desirable functions, then it costs a little more than an average pedal, but it still saves you money as you're getting two for the price of one.

Now we will have look at an alternative, the MXR EVH5150. Our first impression of this pedal was that the design looks extremely professional. Turns out it was designed in collaboration with Eddie Van Halen. We must say they have succeeded, it looks and feels great! This is a very versatile pedal that gives the musician whatever he wants. The sound is very high quality and you will probably feel that it was worth paying a little extra to get this high performing pedal.
Taking a closer look at the features of the Maxon RTD800 Real Tube Ovedrive Pedal
Another great feature of this pedal is the foot-switchable boost function. It's also got three independent tone circuits. This helps diminishing frequency overlap and cross-talk and means that you have more tonal options than most other pedals offer.
But what about the MXR EVH5150
The noise reduction is on point and the pedal responds well to the dynamics of your pick attack. This pedal lets you focus only on the music you are playing and it allows you to really make that sound you have in mind come to life. This pedal really brings you the Van Halen sound and you just have to try it for yourself to know how good it actually feels!
HEAD TO HEAD COMPARISON

Maxon RTD800 Real Tube Ovedrive Pedal

MXR EVH5150

KEY FEATURES

+ Overdrive and distortion pedal in one
+ Foot-switchable boost function
+ Three independent tone circuits



+ Designed in collaboration with Eddie Van Halen
+ Amazing sound
+ Outstanding noise reduction



WHAT OUR TEAM THOUGHT

If overdrive isn't enough for you and you want the option to add distortion too, then this pedal is the one to go for. The sound quality great when either feature is used, and it offers a very broad range of tonal options to help you take your music to the next level. A true premium choice!

You can't go wrong with this one. It has got the whole package. It has terrific sound quality, both functional and awesome looking design and for Van Halen fans this is definitely a product worth considering. It is hard to even find any flaws in this overdrive pedal! If you are looking to vary your sound a little more, you can always add a reverb pedal to your collection.
Read the complete review
Check out our article Top 10 Overdrive Pedals for Great Metal Sound in 2022 for more info.
Related product comparisons: