Compare the Remo Ambassador Coated to the Evans EC Reverse Dot
In this comparison we put the Remo Ambassador Coated and Evans EC Reverse Dot head to head in a battle to find out which wins the specifications war. There is a lot more to this sort of decision than price, so we see if we can help you decide which is best for your needs. If you enjoy this article, you can also check out the full version here.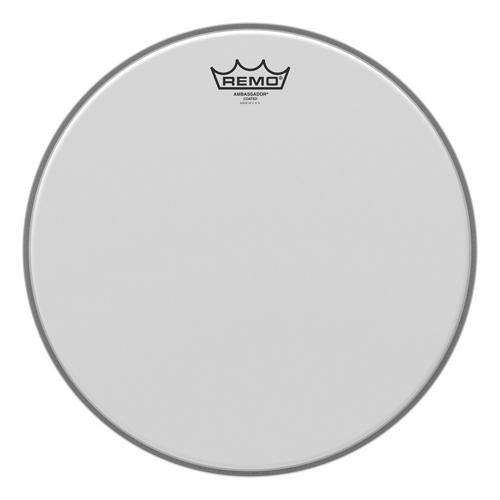 Let's get started by taking a close look at the Remo Ambassador Coated.

Now we will have look at an alternative, the Evans EC Reverse Dot. Perhaps you feel like trying something new? Maybe a reverse dot can be what you've been needing without even knowing it? This is a really cool drum head that feels like a step in the right direction in the evolution of drum heads! Sound
A good look at the Evans EC Reverse Dot
Evans promises that Evan's 'Edge Control' technology will "eliminate the mid-range frequencies that muddy up the mix, leaving crisp highs and deep lows." The sound is controlled but has still got a nice resonance and good focus and attack. Features
HEAD TO HEAD COMPARISON

Remo Ambassador Coated

Evans EC Reverse Dot

KEY FEATURES

+ World's most popular drum head
+ Cheap
+ Many sizes available for all your drums



+ Reverse dot to make your tone perfect
+ Available in many sizes
+ Easy to fit and tune
+ Durable

Cons:
- There have been cases where the reverse dot has fallen off
Did you know?
Evans Level 360 Drum head technology "Enables perfect transfer of vibration from the head to the shell."



WHAT OUR TEAM THOUGHT

If you want to find affordable drum heads for your whole drum set, this might very well be a great option! Especially if you're playing genres like pop or jazz and want a 1-ply, coated drum head that gives you a nice, living tone. Remo is a well-renowned brand that many drummers have great confidence in and that you can trust too. Did you know? Remo D Belli invented the first successful synthetic Mylar drum heads, which is standard today, in 1957!

This is a really good drum head for snare drums that will take away those annoying overtones that makes your tone muddy. You will be left with a nice, clear and crisp tone. The reverse dot is great since it's not in your way while playing. It's also available in a single ply version with a reversed dot and a 2-ply version without it.
Discover more
Also see Music Critic's article Top Drum Heads For Church, Jazz & Metal Genres which includes even more information.
Similar Product reviews: