1 vs 1 Comparison
In this brief comparison, we are going to be putting two products head to head. The team take this task very seriously - two products enter, but only one can leave. You might also be interested in our article Top Drum Heads For Church, Jazz & Metal Genres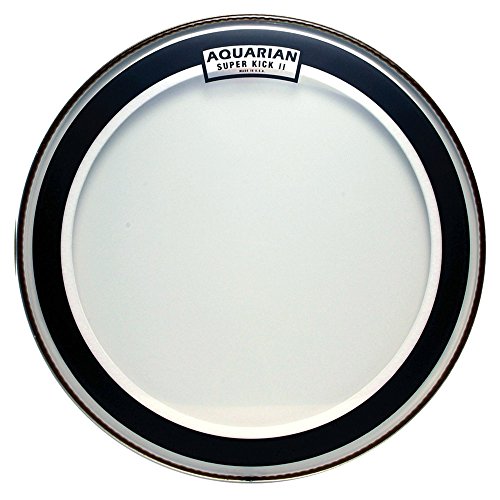 Contestant number one is the Aquarian SKII22 Super-Kick II.

Now we will have look at an alternative, the Evans Genera HD. Looking for an invention that will revolutionize your snare drum? Look no further, you've found it! The Genera HD is one of Evans most popular drum heads, and for a good reason! Sound
A good look at the Evans Genera HD
This drum head provides you with a very controlled sound. All excessive overtones and extra resonance are eliminated and your snare drum will sound just like it's supposed to do. Features
HEAD TO HEAD COMPARISON

Aquarian SKII22 Super-Kick II

Evans Genera HD

KEY FEATURES

+ Built-in floating felt muffle ring
+ Great tone
+ Durable for the heavy hitter



+ Overtone control ring that eliminates excessive overtones
+ Durable
+ Great sound

Cons:
- We couldn't find any bad reviews for this drum head!
Did you know?
Evans have been owned by D'addario since 1996 and both are drum set brands we know well for delivering high-quality products.



WHAT OUR TEAM THOUGHT

This is without a doubt one of the most amazing drum heads for bass drums you can lay your hands on! The felt muffle ring makes your tone sound exactly like a bass drum should sound, and you can finally remove that pillow and enjoy having a clear, see-through drum that sounds great and is extremely durable for the heavy hitter!

We really like this drum head! It makes any snare drum sound a lot better and is good for any genre, really. The overtone control ring keeps your tone nice and tidy, so to speak. No clutter in the form of excessive overtones, just a nice, sharp sounding snare!
Discover more
Music Critic did a post with even more information on this topic. Click here to see it.
See more head-to-head comparisons of products: