Side-by-side comparison
Trying to decide between two models? There is a lot more to this sort of decision than price, so we see if we can help you decide which is best for your needs. This product comparison article is just one in a series titled 10 Best Double Bass Pedals of 2020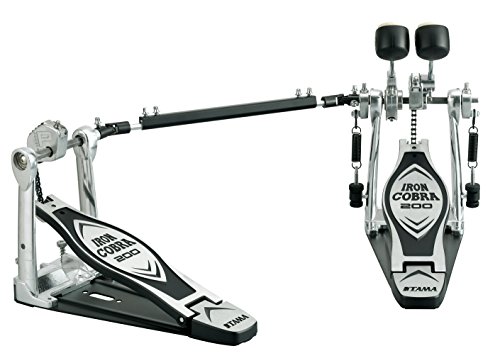 Everyone has different preferences, and we hope our frank reviews will make your decision easier. First, we will take a look at the TAMA Iron Cobra 200.

The challenger is the Tama HP600DTW Iron Cobra 600. Tama have been at the top of their game for the last twenty years producing one of the best-loved products o the market. The mighty Iron Cobra 600 is a benchmark for affordable double bass pedals.
But what about the Tama HP600DTW Iron Cobra 600
It features all the necessary adjustments required to set the action to your preferred playing style whilst the options may not be as finite as you might find on more expensive models they sport a unique convertible 'Duo Glide' cam that lets you select your sweet spot between the rolling glide and power glide sprocket for a choice of smooth consistency or offset speed and power.
HEAD TO HEAD COMPARISON
TAMA Iron Cobra 200
Tama HP600DTW Iron Cobra 600
KEY FEATURES
+ Power glide cam for smooth action feeling.
+ Spring tension and Beater angle adjustment.
+ Low price.


+ Solid under-foot.
+ Quality components.
+ Low price tag.


WHAT OUR TEAM THOUGHT
The Speed Cobra double pedal might not sit comfortably to everyone's tastes in terms of how much you can tweak them, but they make for a great entry level double bass pedal.
These dual chain pedals have highly accurate motion good recoil, and have zero lag once set up competently. We like the duo glide feature as it takes some of the time out of painstakingly finding where you want to be during initial set-up which can be exceptionally hard if you are a complete beginner.
Would you like to know more?
Check out Music Critic's in-depth reviews which includes these two plus other potential contenders.
Find more comparisons: