1-v-1 Product Comparison - the Pearl P932 Demonator vs the Drum Workshop Inc. DWCP3002
In today's comparison we invite you to see how the Pearl P932 Demonator stacks up against the Drum Workshop Inc. DWCP3002. Not sure which is right for you? With so many great options on the market that's hardly surprising, so read on and see if we can help you reach a decision. Click here if you would like to see more product reviews in the same category.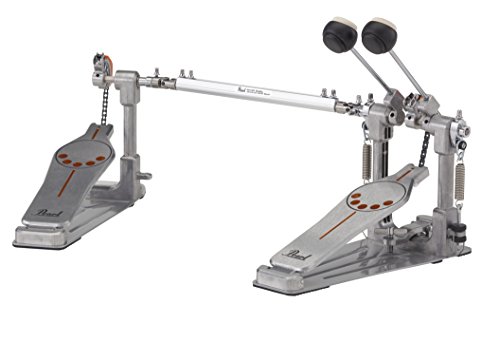 First, let's have a look at the Pearl P932 Demonator.

The second product we are looking at in this head-to-head review is the Drum Workshop Inc. DWCP3002. This is another double bass pedal with an attractive price. The 3000 series from Drum Workshop is a line aimed at making their renowned, rock-solid 9000's affordable. As you are bound to notice there are a few adjustment sacrifices along the way when held in direct comparison. Thankfully the smoothness delivered by the 6000/9000 models is still up to scratch. They have fantastic balance and there is zero lag when playing at high speeds. You can adjust just about everything you want to including distance and beater angle. It can produce thunderous breaks and eloquent flourishes.
Taking a closer look at the features of the Drum Workshop Inc. DWCP3002
The double bass drum pedal is driven by dual chains for turbo drive and feature spring rocker bearings for the ultimate response and recovery.
HEAD TO HEAD COMPARISON
Pearl P932 Demonator
Drum Workshop Inc. DWCP3002
KEY FEATURES
+ Lag-less response.
+ Aluminum driveshaft.
+ Demon Powershifter foot-board.


+ Steel base plates.
+ Dual driven.
+ Professionally made.


WHAT OUR TEAM THOUGHT
The Pearl Demonator is quite light weight but we think it is one of the best double bass drum pedals for the money as it offers high end experience for less of an expense. This Pearl Demonator double bass pedal follows on from Pearl's P930 Demonator double bass pedal.
It Provides a professional level of lag-free response at half the price of it's acclaimed ancestors.
Read the complete review
You might also be interested in Music Critic's in-depth article on this topic, 10 Best Double Bass Pedals of 2020.
Similar Product reviews: