Side-by-side comparison
Today's product comparison has Music Critic comparing the DW 9000 to the Pearl P2052C Eliminator. Not sure which is right for you? Read on and find the perfect item for your needs. If you would like to see more product comparisons and reviews in this category, click here.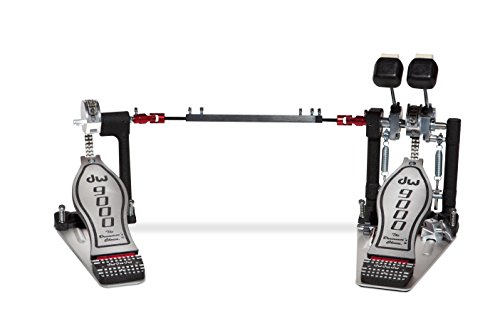 Contestant number one is the DW 9000.

The second product we are looking at in this head-to-head review is the Pearl P2052C Eliminator. This again is arguably one of the best selling double bass pedals on the current market. The price tag is relatively low in terms of double bass pedals for the money but it offers some unbelievably advanced technology and craftsmanship. It is a dual chain driven double pedal with Pearls patented Click-Lock, which is part of the eliminator Redline series which means the boards are coated on the surface for extra grip ~It features the unbelievable NiNja skateboard industry bearings which were dubbed "so good we sent them into space." It has high end 4-sided quad control beaters for increased options on your playing. It has interchangeable cams to also adjust the feel. The spring suspension swings freely and they are unbelievably smooth action and quiet with their universal joints.
HEAD TO HEAD COMPARISON
DW 9000
Pearl P2052C Eliminator
KEY FEATURES
+ High end double bass drum pedal.
+ Ball bearing hinge.
+ Floating rotor.


+ Free swinging suspension for excellent response and recovery.
+ Redline surface for grip.
+ Quiet universal joint.
+ Power Shifter.


WHAT OUR TEAM THOUGHT
This is a truly remarkable pedal on the market - anyone who has had the privilege of playing one will notice the difference immediately the quality is unbelievable and it is worth every penny of its price tag, which whilst pretty high, fluctuates from time to time so you may be able to grab your self some real value for money if you keep your ear to the ground.
It is a beautifully adjustable double bass pedal on the market the quad-core beaters on top of Pearls advanced adjustment features give a host of options something for everyone.
Discover more
Check out our article 10 Best Double Bass Pedals of 2020 for more info.
Similar Product reviews: