Side-by-side comparison
In this brief comparison, we are going to be putting two products head to head. There is a lot more to this sort of decision than price, so we see if we can help you decide which is best for your needs. If you enjoy this article, you can also check out the full version here.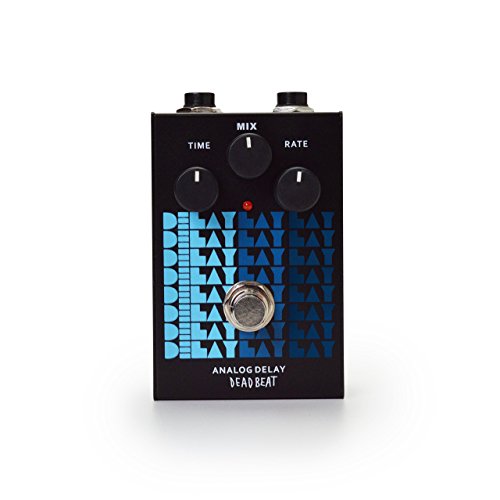 Contestant number one is the Deadbeat Sound DELAY LAY LAY. This is a yet another fantastic delay pedal from a fledgling California based manufacturer. Dead beat sound are new on the market having ventured into guitar pedals under a year ago. They refer to their pedals as 'broke-tique' rather than boutique guitar pedals.

The second product we are looking at in this head-to-head review is the Boss DM-2W Waza Craft. Another instance where public demand achieved reproduction. This special edition Boss DM-2W Waza Craft pedal is a highly coveted stomp-box that revives the hallowed, but sadly discontinued BOSS DM-2 Delay. Produced with premium all analog circuitry with genuine BBD it brings exceptional BOSS tone via its touch responsive analog components. The vamped up release of the Boss DM-2W also features switchable sound delay modes. Standard mode serves up 20-300ms delays that duplicate the lush original sounds. Custom mode has a smoother analog tone double the delay time.
Taking a look at the features of the Deadbeat Sound DELAY LAY LAY
As it is such early days we haven't vetted out how genuine their analog circuits are. Despite being so fresh on the block they are providing a range of worthy electric guitar pedals available on the market, which review as surpassing expectations and demo well in live reviews. Everyone knows first impressions are everything when you introduce yourself, This is something the company clearly kept in mind when introducing their guitar effects pedal line.
Reasons to buy the Boss DM-2W Waza Craft
The Boss DM-2W Waza Craft delay pedals sound like glorious homages to their original iconic sonic forefathers but with less noise and better consistency. They are capable of working in conjunction with an expression pedal for live time control. For subtle slap-backs to moody repeats something to suit all styles. A notable feature is the split optional wet/dry outputs, astonishing contrasts.
HEAD TO HEAD COMPARISON

Deadbeat Sound DELAY LAY LAY

Boss DM-2W Waza Craft

KEY FEATURES

+ True Bypass.
+ Packs a punch without muddying the sound.
+ Compact design.
+ Great starter pedal.



+ 2 output jacks for separate delay and direct sounds.
+ Easy interface.
+ All-analog.



WHAT OUR TEAM THOUGHT

It's a welcome and refreshing addition to the guitar effects pedal market, and part of a limited run so well worth a mention once they are gone they are gone!

Engineered by an esteemed company, resurrecting a respected delay guitar pedal, the Boss DM-2 offers beloved, authentic analog delays that are not easily rivaled.
Read our full review
Check out our article 10 Best Analog Delay Pedals of 2023 for more info.
Related head-to-head product reviews: