Battle Royale: Comparing the MXR M169 Carbon Copy to the Way Huge WHE701 Aqua-Puss MKII
In today's comparison we invite you to see how the MXR M169 Carbon Copy stacks up against the Way Huge WHE701 Aqua-Puss MKII. The Music Critic reviews can help point you towards models and brands that suit your needs. For more information and product comparisons, check out our longer article here.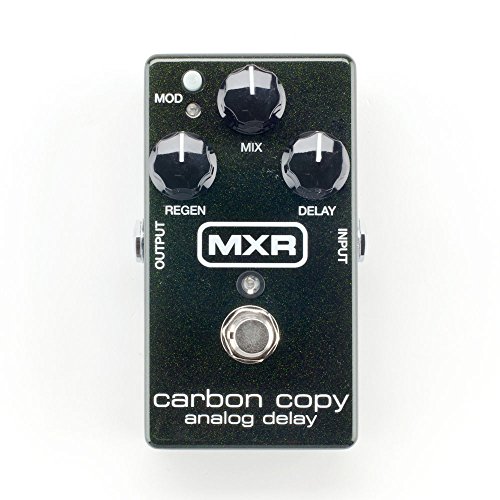 Let's get started by taking a close look at the MXR M169 Carbon Copy. A shining example of pedal production from the respectable Dunlop brand. It's not hard to guess why this MXR M169 Carbon Copy

 analog delay pedal is a worldwide best-seller with it's authentic analog audio path featuring actual BBD technology for producing those essential dark tones.

Now we will have look at an alternative, the Way Huge WHE701 Aqua-Puss MKII. The Aqua-Puss MKII is a resurrection of the original Way Huge Aqua-Puss which was so sought after and hard to come by that the demand sparked a comeback craze. It's triumphant return was made possible by Jim Dunlop, an undeniably popular provider of guitar pedals you can rely on. Housed in a durable shell that bears the familiar light blue color and lettering as it's progenitor as well as its 3 simple controls. Setting the blend, delay and feedback controls to different positions gives users the ability to calibrate a range of delay effects.
A deeper look at the features of the MXR M169 Carbon Copy
Our favorite delay pedal, the MXR M169 Carbon Copy

, makes for an honest delay tone with crisp slaps, ace acoustics and organic warmth. Regen function easily controls repetitions hand in hand with mix (wet/dry blend and delay. Despite is 3 dial design the MXR Carbon Copy has deceptive versatility, ideal for; country, blues, surf, rockabilly, rock and roll, and even 'Floydian' progressive rock tones.
But what about the Way Huge WHE701 Aqua-Puss MKII
Delectable double-stops, warm vintage distortion repeats and killer rhythmic tonality. Instantly twist from 20 ms to 300ms of delay time which is noticeably less than some but it oozes thick dimensional soundscapes. Intense settings trigger self oscillation for chaotic echos in it's self oscillating 'psycho freak out 'mode. It's always great to see a re-emergence of top class vintage analog pedals fine-tuned and readily available to the masses, making that next level of playing attainable for all.
HEAD TO HEAD COMPARISON

MXR M169 Carbon Copy

Way Huge WHE701 Aqua-Puss MKII

KEY FEATURES

+ Compact design.
+ 600ms of delay for play.
+ Range of parameters to control.
+ All-analog from a trusted brand.



+ Creates epic 3-dimensional sound mild to wild.
+ Tough as boots.
+ All-analog.



WHAT OUR TEAM THOUGHT

No analog pedal review would really ever be complete without mention of an MXR pedal, the MXR M169 Carbon Copy

 analog delay is a diverse delay device, an affordable compact model from a venerable industry titan.

It delivers impeccable vintage analog delays in a brand-spanking-new, reissue of an exemplary analogue delay pedal. Until Dunlop set about recreation these guitar pedals were in such demand their prices were sky high!
Want to find out more?
Also see Music Critic's article 10 Best Analog Delay Pedals of 2023 which includes even more information.
Similar Product reviews: