Select and Compare: Donner Yellow Fall Vintage Pure to the Behringer Vintage Delay VD400
Music Critic review products for everyone, from professionals to enthusiasts, and are written in plain English to make it easier to understand the options available and decide between them. Our tests and reviews can help point you towards models and brands that suit your needs. If you would like to see more product comparisons and reviews in this category, click here.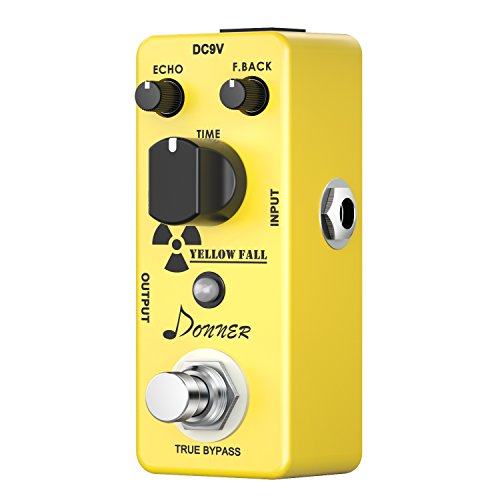 Everyone has different preferences and priorities, so to make choosing easier we have attempted to give a frank review of the products. Let's start with the Donner Yellow Fall Vintage Pure. This is in all honesty, a digital delay budget option masquerading as a pure analog circuitry delay pedal but doing a very convincing job of it for a low price. Advertising genuine analog tones is fittingly descriptive when you hear it in action it doesn't disappoint but it is not entirely accurate. Our insider info reveals inside this sturdy durable full metal shell is another PT2399 based digital emulation. So armed with the facts here are it's selling points. Straightforward to use with three dials to adjust and combine to find your desired tone.

Next let's have a look at the Behringer Vintage Delay VD400. Fantastic elastic delays and vintage inspired slap-backs from this German-engineered delay pedal. We have discussed Behringer before, this guitar effects pedal is yet another great illustration of the company's core commitment to providing products that are capable of competing head to head with leading brands. Featuring veritable BBD analog circuitry its clock up to 300 ms of time delay. Aided by its advanced noise reduction technology, it produces a host of historical tone characteristics. 3 dedicated controls that facilitate sound shaping. Tweak intensity, echo and repeat rate for a range of sounds that go from cosmic whispers, to rock 'n' roll revival delays. It offers split outputs to enable users to send dry and wet through separate channel paths.
Let's take a closer look at the Donner Yellow Fall Vintage Pure
Time is pretty self explanatory and as with most PT2399's it ranges from 25-600ms. The feedback control determines the repeats, whilst the echo control is for blending the overall mix. There are an armada of YouTube reviews on this electric guitar effects pedal, likewise the Ammoon Nano Echo and Rowin Vintage all which are clones, a little of their innards differ but they are practically the same. This is the digital delay pedal for you, if you are looking to emulate the greats and get make those rock and roll tones your own without investing too much cash these copycat reproductions contain cutting edge circuitry which offer up delay-play opportunity for an arguable bargain.
HEAD TO HEAD COMPARISON

Donner Yellow Fall Vintage Pure

Behringer Vintage Delay VD400

KEY FEATURES

+ True Bypass, low noise mechanical switch.
+ Under 30 bucks a pop.
+ Had some great reviews and performs pretty well.



+ Straightforward use.
+ Genuine BB Delays.
+ Affordable option.
+ Noise free switch operation.



WHAT OUR TEAM THOUGHT

This digital delay pedal has one of the most simplest interfaces of the delay guitar pedals available on the market, like the Donner Yellow Fall Vintage provide access to emulating effects that those shopping on a shoestring might otherwise not have access to.

It is a great contender for a low-cost classic analog with a dynamic choice of delay sound shaping options, traditional slap-backs and trailing repeats.
Would you like to know more?
Also see Music Critic's article 10 Best Analog Delay Pedals of 2023 which includes even more information.
Similar Product reviews: