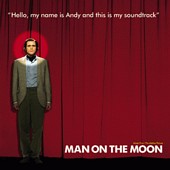 Release Date: 11.23.99
Record label: WEA / Warner
Genre(s): Movies, Film Scores, Musicals, Etc.
Looking for Answers
by: michael karpinski
Pop soundtrack albums come in all shapes and sizes; all variations and varieties. Only a select few serve as perfect sonic complements to their celluloid sources (The Big Chill; Dazed and Confused; Trainspotting). Fewer still transcend those sources (Lost Highway; Velvet Goldmine). Alas, the vast majority simply spin their wheels, desperately lacking the traction that accrues from an inspired commingling of visual image and incidental music.
Regrettably, the soundtrack to Man on the Moon falls face-first and firmly into this last category. Named for (and, in many ways, inspired by) R.E.M.'s 1993 semi-hit single (of the same title), Milos Foreman's courageously off-kilter Andy Kaufman biopic also taps the band from Athens for its orchestral score and closing credits-accompanying single. "The Great Beyond" is a sort of sister-song to the title track that, on repeated listenings, slowly-but-surely succeeds in insinuating itself into the subconscious - the litmus test for any pop song with designs on transcending the disposable.
Beyond "The Beyond", the pickings here are, sadly, slim. R.E.M.'s six short orchestral interludes are typically tasteful and tuneful (if a bit Ferrante and Teicher/"Theme from 'Exodus'" familiar); Exile's gloriously giddy disco-pop confection "Kiss You All Over" gets rescued from '70s obscurity (though Gary Wright's "Dream Weaver" was rescued to even better effect in Foreman's The People vs. Larry Flynt).
Jim Carrey (channeling both Kaufman and Kaufman's constipatedly cranky alter-ego Tony Clifton) talks and sings along with Stipe on the Fabian-fluffy "This Friendly World." For any and all who have spent long hours agonizing over the absence of the Sandpipers' "'Mighty Mouse' Theme" and Bob James' "Theme from 'Taxi'" from their CD assortments, you will find them both here - clocking in at 1:22 and 1:06, respectively. Indeed, only the most fanatically forgiving of R.E.M. followers is likely to overlook the disc's inexcusably skimpy 37-minute running time.
Appropriately, Andy Kaufman is afforded two opportunities to crash his own posthumous party. But without the benefit of the man's wide-eyed, deceptively sweet deadpan delivery - and without the lightning-strike electricity that often accompanied the tightrope-traipsing prankster's live-and-in-the-moment assaults upon befuddled, unsuspecting audiences - these brief, disembodied ditties have all the musical significance of a Weird Al Yankovic accordion solo and all the comedic impact of a Richard Nixon-delivered knock-knock joke.
So take a bit of advice from a fanatically forgiving R.E.M. follower: skip the disc and see the flick. Only then will you hear how the music was meant to be seen and see how the movie was meant to be heard.