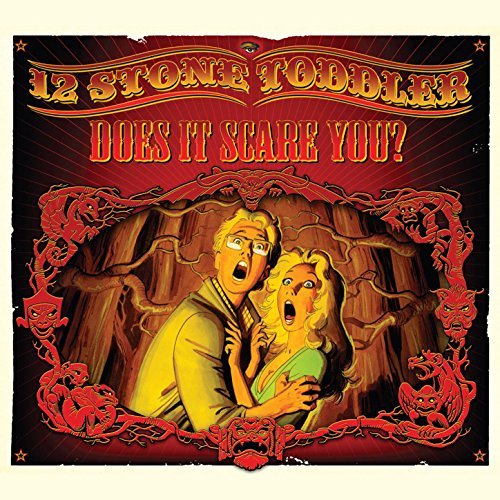 Release Date: 07.02.07
Record label: Amazon Records
Genre(s): Rock
Music-Critic Score
How the Music Critic Score works
Welcome to the circus!
by: Tim Wardyn
Picture this: You're walking around a carnival with all the lights, music and cotton candy your senses can handle all around you. Then you hear someone yell, "Come back!" You turn around and hear some driven rock music and then some major guitar solo riffage. Where is it coming from? Better yet: How the hell did they mesh the carnival background and intense rock music? I can't answer that, but I do know that it is without question the best debut album of the millennium. 12 Stone Toddler's "Does It Scare You?" (and it's creepy animated cover) is hands down one of the best debuts I've ever heard.
It starts out with the intense "Come Back!" which lyrically doesn't do much, but musically is nothing short of astounding introducing their controlled chaos and immense talent to the masses. It only gets better until it climaxes with the closing lament "The Ballad of Al Coholic." Each line of "The Ballad of Al Coholic" flows right into the next one so well that you become so hypnotized by the song that you have to continue to listen until the audio ecstasy stops.
"The Rabbit" is a perfect circus complete with maniacal laughter, talk show band ending, all out rocking and sing-along chorus "I pulled a rabbit out the hat/ How in the hell did I do that?" While "Twang," with it's fantastic horn foundation pulls you right in with the first line of the chorus "If something can make you feels great/ Then why don't you just go right ahead?" Like buy this album.
"Balloonatics" sounds like something straight out of a bar scene from an old west movie. With piercing lyrics directed at the "Big fat bastards eating all the pie" (a.k.a. America's top 1% or President Bush's best friends), Otero slams their "Corridors of power" while asking "Show me when to laugh/ Making children cry/ Show me how to live/ Making lots of people die."
"Does It Scare You?" is one of the most original debuts to date and perfectly balances the carnival bedlam (and lead singer Chris Otero's devilish ringmaster voice) and straight up rock ala The Clash, although the finished product is nothing like the Clash. It's something all their own. 12 Stone Toddler deserve to be as huge as their sound, selling out arenas and making people beg for the bearded lady.
02-Jul-2007

Download Does It Scare You? Sheet Music, Guitar Tabs, or Lyrics at musicnotes.com!