Compare the Z-Line L-Shaped Computer Worktop to the Omnirax Presto 4 Studio Desk
See how the Z-Line L-Shaped Computer Worktop stacks up against the Omnirax Presto 4 Studio Desk in today's product comparison. Not sure which is right for you? Read on and find the perfect item for your needs. This article is part of a series called Best RTA Recording Studio Furniture for Music Making

The first product we will be looking at is the Z-Line L-Shaped Computer Worktop. Established in 1995 with the soul mission of providing ready to assemble furniture, Z-Line designs is living the hype. Z-Line is the king of innovative designs providing quality products under an affordable price range.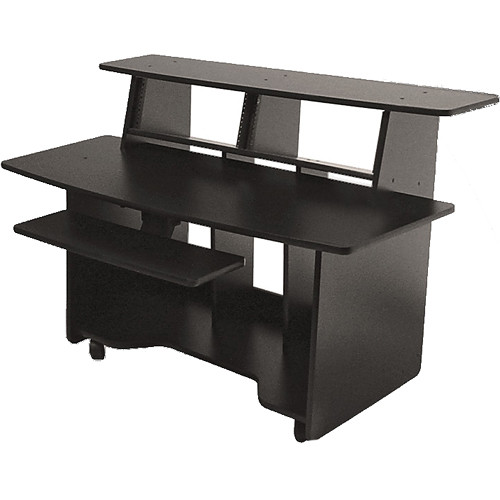 And now we will have a look at our second product, the Omnirax Presto 4 Studio Desk. When opportunity knocked the door of omnirax they answered the call to make history. Four decades have passed away and all that experience is making omnirax better and better.
Examining the Z-Line L-Shaped Computer Worktop
This company meets the requirements of the consumer while delivering state of the art studio furniture according to the present.
A good look at the Omnirax Presto 4 Studio Desk
Omnirax had the mission of providing an elite fixture to every sector in the least price possible. Making history since it started, presto 4 recording station is made with the same consistency and love.
HEAD TO HEAD COMPARISON
Z-Line L-Shaped Computer Worktop
Omnirax Presto 4 Studio Desk
KEY FEATURES
+ Spacious desk.
+ Raised monitor shelf for comfortable viewing.
+ Desktops made up of clear tempered glass for utmost safety.


+ Heavy-duty casters for easy adjusting.
+ Sliding computer keyboard shelf with mouse room.
+ 4 rack spaces in 2 bays within easy reach.


WHAT OUR TEAM THOUGHT
This furniture is a sublime solution to give your workspace a touch of simplicity. With spacious desktop, raised monitor shelf and clear tempered glass this desk has some serious backing.
This desk is hands down amongst the best studio furniture currently available in stores. With wide enough desktop surface, heavy-duty casters and good built quality this desk gives you more than what you actually pay.
Would you like to know more?
Check out our article Best RTA Recording Studio Furniture for Music Making for more info.
Other product comparisons: