Compare the Z-Line L-Shaped Computer Worktop to the Omnirax Presto 4 Studio Desk
See how the Z-Line L-Shaped Computer Worktop stacks up against the Omnirax Presto 4 Studio Desk in today's product comparison. Not sure which is right for you? Read on and find the perfect item for your needs. This article is part of a series called Best RTA Recording Studio Furniture for Music Making

The first product we will be looking at is the Z-Line L-Shaped Computer Worktop.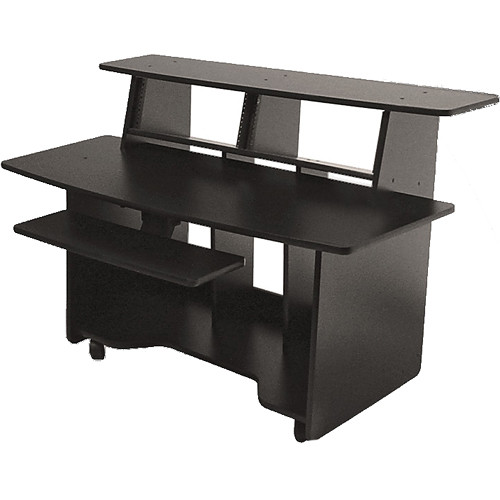 And now we will have a look at our second product, the Omnirax Presto 4 Studio Desk.
HEAD TO HEAD COMPARISON

Z-Line L-Shaped Computer Worktop

Omnirax Presto 4 Studio Desk

KEY FEATURES

+ Spacious desk.
+ Raised monitor shelf for comfortable viewing.
+ Desktops made from clear tempered glass for durability.



+ Heavy-duty casters for easy movement.
+ Sliding computer keyboard shelf with room for a mouse.
+ 4 rack spaces in 2 bays within easy reach.



WHAT OUR TEAM THOUGHT

With a spacious desktop, a raised monitor shelf, and clear tempered glass this desk is a superb product. We can highly recommend it as an affordable, good-looking workstation.

This affordable product is loaded with premium features, including heavy-dute casters and a sliding keyboard shelf. Perhaps its best feature, however, is the ample surface area that it offers.
Would you like to know more?
Check out our article Best RTA Recording Studio Furniture for Music Making for more info.
Other product comparisons: