Compare the Omnirax Force Audio Workstation to the Studio Trends Studio Desk
Today's product comparison has Music Critic comparing the Omnirax Force Audio Workstation to the Studio Trends Studio Desk. Find out what separates these two items with the full comparison review below. You might also be interested in our article Best RTA Recording Studio Furniture for Music Making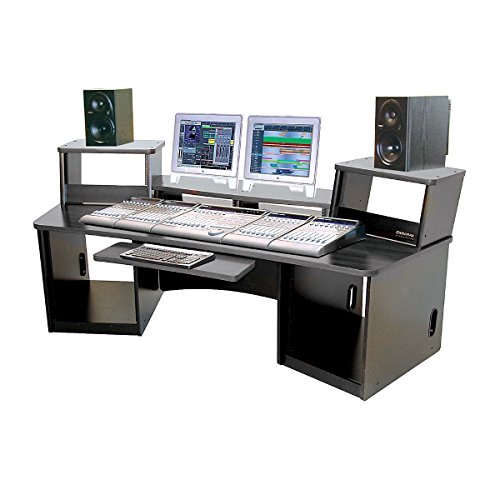 Contestant number one is the Omnirax Force Audio Workstation. Who would have known that a little point of purchase wood shop will evolve into a recording furniture company? From the beginning this company analyzed many studios to built out something perfect for musicians.

Now we will have look at an alternative, the Studio Trends Studio Desk. Growing demand of studio desks made studio trends to utilize their skills and experience to produce outstanding desks. With the soul aim of delivering only the best recording stations, this company has gained a huge audience.
A closer look at the Omnirax Force Audio Workstation
From office products to audio workstations omnirax excels the game of providing ergonomic fixtures to all.
Examining the Studio Trends Studio Desk
Here at studio trends passion and consistency mash up to give you the best option available in the market.
HEAD TO HEAD COMPARISON
Omnirax Force Audio Workstation
Studio Trends Studio Desk
KEY FEATURES
+ Two 12-Space racks in the bottom end.
+ Wide monitor shelf to add up multiple displays.
+ Heavy-duty casters for mobility and easy cable management.


+ 46" wide workspace.
+ Desk shelf for computer monitors and speakers.
+ Height adjustable.


WHAT OUR TEAM THOUGHT
With wide monitor shelf, plenty of leg-room between the bottom racks and heavy-duty casters this workstation is the perfect match to your studio.
With maple wood top, four casters for ease of moving and shelf for monitors this furniture has some serious potential locked inside for audio creators.
The Bottom Line
Check out Music Critic's in-depth article Best RTA Recording Studio Furniture for Music Making which includes even more information.
Find more comparisons: