How do they stack up? The Studio RTA Producer Station vs the On Stage WS7500 Music Workstation
In this brief comparison, we are going to be putting two products head to head. You might think it all comes down to the price, but frankly there is a lot more to it. This article is part of a series called Best RTA Recording Studio Furniture for Music Making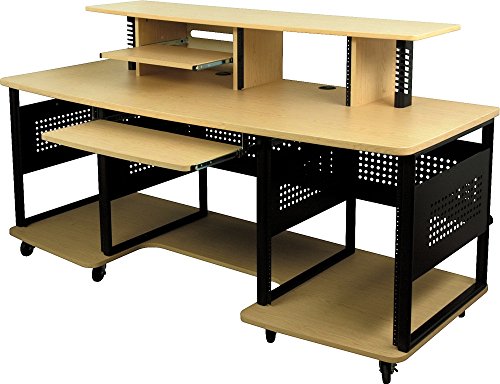 Everyone has different preferences and priorities, so to make choosing easier we have attempted to give a frank review of the products. Let's start with the Studio RTA Producer Station. Sauder woodworking corporation is North-America's leading producer of RTA (Ready To Assemble) station. From beds to studio work spaces this manufacturer builds it all to accompany your needs.

And now we will have a look at our second product, the On Stage WS7500 Music Workstation.
Examining the Studio RTA Producer Station
With state of the art equipment and over 2000 workers working in a 4 million square feet of space, one can think about the wonders that this company can provide.
HEAD TO HEAD COMPARISON
Studio RTA Producer Station
On Stage WS7500 Music Workstation
KEY FEATURES
+ Ergonomic workspace.
+ 5-Space top rack.
+ Dual 20-space racks.


+ Perfect for home or studio.
+ Laminated surfaces.
+ Steel constructed ergonomic z-frame.


WHAT OUR TEAM THOUGHT
With steel frame construction, all sapele wood built and an ergonomic design this studio fixture is a great choice for everyone out there.
With only 40 pounds of weight, ergonomic design for utmost comfort and compact z-frame makes this studio desk an ideal choice for many audio creators out there.
Read the complete review
You might also be interested in Music Critic's in-depth article on this topic, Best RTA Recording Studio Furniture for Music Making.
Related head-to-head product reviews: