Compare the Xvive U2 Rechargeable to the Nady DKW-3 GT VHF
See how the Xvive U2 Rechargeable stacks up against the Nady DKW-3 GT VHF in today's product comparison. Our tests and reviews can help point you towards models and brands that suit your needs. If you would like to see more product comparisons and reviews in this category, click here.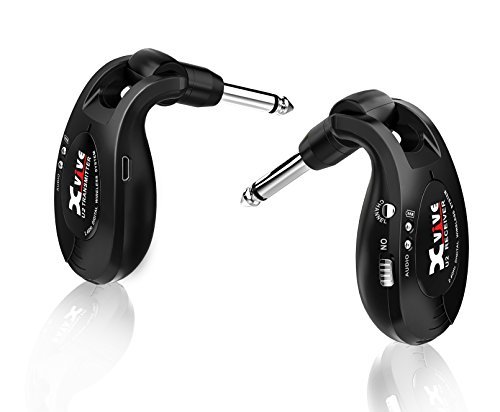 The first product we will be looking at is the Xvive U2 Rechargeable.

The second product we are looking at in this head-to-head review is the Nady DKW-3 GT VHF. The Nady DKW-3 GT VHF wireless system operates as the name suggests, on a single separate, very high frequency It is a great system for live performances and ideal for those starting out. The Nady DKW-3 GT uses a 9-volt battery to operate and the transmitter has gain controls. It consists of a body-pack style receiver and transmitter with advanced processing circuitry eliminating background hiss. The Nady DKW-GT typically operates between a 150 and 300-foot line of sight. Nady Systems has been manufacturing wireless microphones since 1976 and has sold millions of high performing systems worldwide. Competitively priced.
HEAD TO HEAD COMPARISON

Xvive U2 Rechargeable

Nady DKW-3 GT VHF

KEY FEATURES

+ Less than 6ms Latency.
+ Rechargeable Lithium-ion batteries providing 4-5 hours of battery life.
+ Pocket-sized and fold-able.



+ User friendly controls for simple use.
+ Perfect for entry level users.
+ Collapsible antennas.
+ Body-pack style receiver and transmitter



WHAT OUR TEAM THOUGHT

The tiny Xvive U2 digital wireless system broadcasts in a bandwidth which avoids interference caused by TV stations, public safety broadcasts, and cell phone towers.

This The Nady DKW-GT body-pack transmitter is a budget wireless guitar system from a prestigious Emmy award winning company who have helped pioneer wireless technology. Check out the Nady U1100 GT for an alternative.
Read the complete review
Music Critic did a post with even more information on this topic. Click here to see it.
See more head-to-head comparisons of products: