Compare the Donner DWS-2 to the Getaria 2.4Ghz
We will be looking at two popular products, the Donner DWS-2 and the Getaria 2.4Ghz. You might think it all comes down to the price, but frankly there is a lot more to it. This product comparison article is just one in a series titled Top 10 Best Wireless Guitar Systems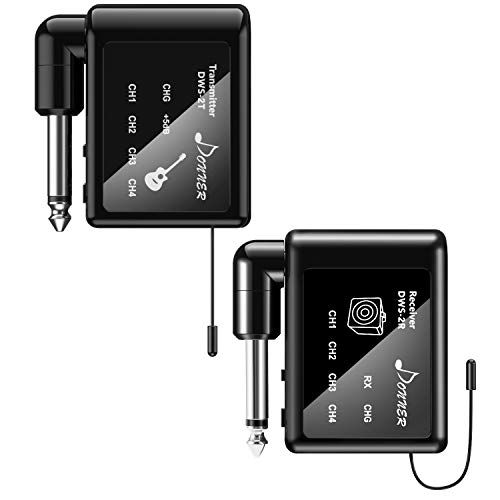 Everyone has different preferences, and we hope our frank reviews will make your decision easier. First, we will take a look at the Donner DWS-2. This Donner DWS-2 is an affordable digital wireless system enabling uncompressed sound transition up to 200 feet within it's line of sight. It is of a compact well-made design; it contains 4 separate channels which can be supported. They can be used for separate instruments transmitted and simultaneously received or instead one transmission can be picked up by multi receivers. The Donner DWS-2 provides a reliable high-quality tone for a variety of instrument/ audio inputs and has a low latency, at less than 2.5ms - the digital delay is practically undetectable.

The second product we will be examining in this comparison is the Getaria 2.4Ghz. The Get aria wireless system is a perfect example of a decent cheap wireless guitar system.
Reasons to buy the Donner DWS-2
The Donner DWS-2 digital system is relatively simple to use and once they are initially paired they remember for future connections and will find each other automatically when switched on. The initial boot instructions are included with the product and are easy to follow. This newly perfected model is just $85.00 and gives musicians the opportunity to utilize spaces and perform cable-free without compromising on a full-unadulterated audio quality.
A good look at the Getaria 2.4Ghz
This is a digital wireless system sending audio uncompressed at 2.4GHz (license-free frequency.) It has a 48K sample rate high-quality cable tone and an ultra-short delay making the signal crisp with no noticeable lag. The line of sight is about 30 meters. It supports 1 to 1 transmission for electric guitars and acoustic guitars pick up. Easy to connect devices together once previously paired will auto connect from memory making the process even faster. Battery-operated so be sure to check power levels. A steal of a deal at just $45.99!
HEAD TO HEAD COMPARISON

Donner DWS-2

Getaria 2.4Ghz

KEY FEATURES

+ Includes rechargeable battery, 2.5 hours of battery life.
+ USB cable charging.
+ 180° head.



+ Uses AAA batteries which are easy to replace.
+ User friendly set-up, plug and play.
+ Low signal-to-noise ratio.



WHAT OUR TEAM THOUGHT

This Donner DWS-2 simple system offers a good operating range at an ideal price tag for those on a lower budget.

The line of sight is much further than other models offer and 30 meters for under fifty bucks is inarguable value.
Would you like to know more?
Check out Music Critic's in-depth reviews which includes these two plus other potential contenders.
Other product comparisons: