Side-by-side comparison of the Shure PGXD14 and the Line 6 Relay G10
We will be looking at two popular products, the Shure PGXD14 and the Line 6 Relay G10. There is a lot more to this sort of decision than price, so we see if we can help you decide which is best for your needs. If you enjoy this article, you can also check out the full version here.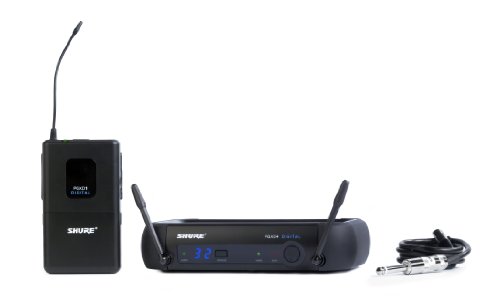 Everyone has different preferences and priorities, so to make choosing easier we have attempted to give a frank review of the products. Let's start with the Shure PGXD14. The Shure PGXD14 Bodypack Wireless System is part of the Guitar/Bass wireless systems family. This basic wireless guitar system has been expertly designed by Shure, one of the leading brands in music wireless systems, so you can guarantee it has been well made to high industry standard. A diverse device such as this better provides reliable signal and frequency agility. It delivers a pristine radio frequency signal. The durable Shure PGXD14 body-pack transmitter clips onto belts or guitar strap with ease and provides you with a 20Hz - 20kHz frequency range. This Shure PGXD14 system features a power mute and battery status LED's. The gain can be adjusted by 26 decibels with a handy dial allowing for volume control and helps elude feedback issues. The audio interface is lockable to avoid settings being changed accidentally. It requires 2 AA batteries to run for up to 10 hours of continuous use. The Shure PGXD14 receiver puts out a 24-bit/48kHz accurate high-quality sound. This is a great wireless system for guitars or electric bass guitars, which offers real value for money.

Next let's have a look at the Line 6 Relay G10. Line 6 have been manufacturing guitar wireless systems for more than 20 years. Their relay series is next-gen technology, featuring wide frequency response with dynamic range. Designed to be compact and as simple as plugging in the cables it endeavors to replace. The Relay G10 system operates on a frequency band which eliminates TV broadcasts radio and white space devices to help ensure a clean signal.
Let's take a closer look at the Line 6 Relay G10
The Line 6 Relay G10 employs advanced Digital Channel Lock technology (DCL) encodes the audio signals sent via its transmitter making it uniquely identifiable from other signals including WiFi which might interfere. Let's break it down this Relay G10 is a 2.4 GHz Digital Guitar Wireless System with Rechargeable Transmitter, with automatic frequency channel set up. There is no "pop" when you plug in as it only broadcasts once properly connected and receiving a sound signal which makes performing with multiple guitars as a lot of guitarists do in a live setting you can switch easily.
HEAD TO HEAD COMPARISON
Shure PGXD14
Line 6 Relay G10
KEY FEATURES
+ Auto frequency selection.
+ Includes a 1/4" instrument cable for guitar and bass applications.
+ Wireless receiver fits perfectly on a guitar effects pedal board.


+ The transmitter recharges when docked on the receiver.
+ Fully FCC compliant and operates license-free worldwide.
+ Up to 8 hours playing time and 200 hours in sleep mode to save battery life.
+ Rechargeable battery
+ Automatic frequency


WHAT OUR TEAM THOUGHT
It is an affordable high quality product developed by a trusted brand.
This Relay G10 is a great wireless system that incorporates some pretty well thought out design details, it eliminates the need to carry batteries by opting for an inbuilt one and recharges simply.
Would you like to know more?
You may also be interested in our article Top 10 Best Wireless Guitar Systems.
Find more comparisons: