1 on 1 Testing
In this brief comparison, we are going to be putting two products head to head. There is a lot more to this sort of decision than price, so we see if we can help you decide which is best for your needs. For more information and product comparisons, check out our longer article here.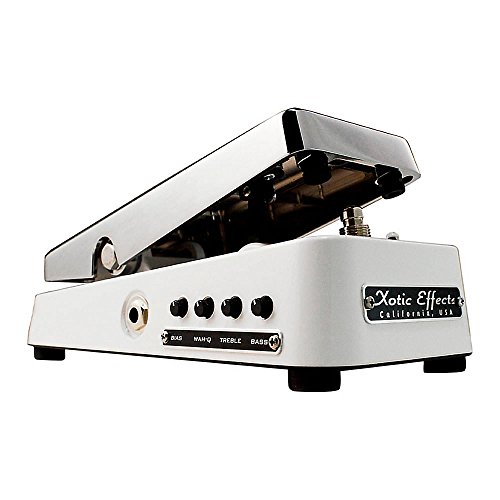 Everyone has different preferences and priorities, so to make choosing easier we have attempted to give a frank review of the products. Let's start with the Xotic Effects Wah Effect Pedal. This white dipped effects treadle is one of the greats, and modelled after the Holy Grail effects-pedal, and gives you not one or three effects, but an unlimited number of sounds. With its unique controls, you shape the sounds and effects that you hear, depending on how you use it.

The second product we will be examining in this comparison is the Dunlop 95Q Cry Baby Wah Wah. If you read our first review of the Dunlop Cry Baby Wah, then you've got to know that this Dunlop Cry Baby Wah Wah, is the awesome big brother and one of the Wah's when it comes to features!
A deeper look at the features of the Xotic Effects Wah Effect Pedal
The Xotic Wah offers such flexibility, that it makes it one of the most versatile pedals available on the market today. This effects treadle offers more than just a single "sweet spot", as it delivers a quality sound with every sweep that is the result of a very responsive effects-pedal that never ceases to amaze each and every time.
Examining the Dunlop 95Q Cry Baby Wah Wah
Dunlop has exceeded themselves in taking an already brilliant wah pedal and adding some of their most popular upgrades to push this wah effects-pedal to the next level in FX. If you're looking for a wah pedal that provides varying intensities of the bank pass shape, then the Q-control will satisfy that very requirement.
HEAD TO HEAD COMPARISON
Xotic Effects Wah Effect Pedal
Dunlop 95Q Cry Baby Wah Wah
KEY FEATURES
+ Bias Control
+ Wah Q Control
+ Treble & Bass Control
+ Adjustable Pedal Torsion and LED Indicator


+ Q-Control for varying Wah intensity
+ Volume Boost for up to +15dB of added gain
+ AC Adapter or Single 9-Volt power
+ Auto-Return function to engage effect


WHAT OUR TEAM THOUGHT
Despite the hefty price of this wah pedal; one would be hard-pressed to find another in the Xotic Wah's class. Considering all that it offers, it is well worth the price and would be a brilliant edition any serious guitarists effects board.
At first view, this appears unimpressive and rather basic, but the additional features on this Cry Baby Wah Wah help to place it among the greatest of the Wah's. This big brother Cry Baby Wah Wah is a must for your pedal board!
Read our full review
You may also be interested in our article The Highest Rated Wah Pedals of 2019 Review.
Other product comparisons: