Side-by-side comparison of the Dunlop GCB95 Cry Baby Wah Pedal and the Morley VAI-1 Steve Vai Bad Horsie Wah
In today's comparison we invite you to see how the Dunlop GCB95 Cry Baby Wah Pedal stacks up against the Morley VAI-1 Steve Vai Bad Horsie Wah. Our tests and reviews can help point you towards models and brands that suit your needs. Click here if you would like to see more product reviews in the same category.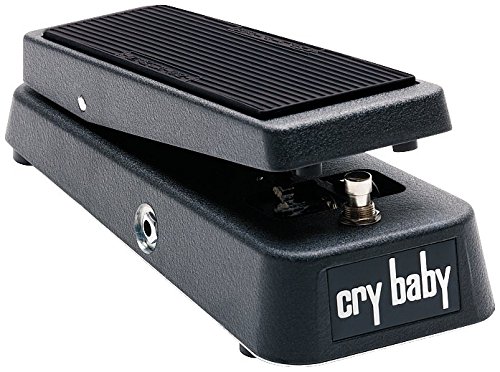 The first product we will be looking at is the Dunlop GCB95 Cry Baby Wah Pedal. So you thought Dunlop was only for tennis players and tires? Well think again, as Dunlop is a name you are likely to hear or see pop up quite often when it comes to guitar pedals, and our first wah pedal being reviewed, is no exception. Although, the two Dunlop entities are completely unrelated. Dunlop Manufacturing was founded by Jim Dunlop Snr. in 1965 and went from a small home-based operation, to one of the largest manufacturers of musical accessories and effects.

The challenger is the Morley VAI-1 Steve Vai Bad Horsie Wah. This is a switchless design, which means ease of use for a guitarist using a multi-effects board. Its use is seamless and requires a step on/step off action to initiate and engage. The clear tone buffer circuit ensures a pure guitar tone is emitted and it maintains signal level in both bypass, and wah-mode.
A good look at the Dunlop GCB95 Cry Baby Wah Pedal
We start off another best, being their Cry Baby Wah made from a heavy die cast construction, weighing in at 3.7 pounds. This treadle is powered by Dunlop's very own ECB-03 AC adapter. Although the adapter is not included, it can be purchased separately. The AC adapter can also be powered through the more portable means, of a 9 Volt battery to provide the user with the best of options.
Taking a closer look at the features of the Morley VAI-1 Steve Vai Bad Horsie Wah
The Morley wah pedal is set to Steve Vai's precise specifications, which makes it easy to use with very little adjustment necessary. A highly visible LED indicator makes this Bad Horsie, one very good buy, with an easily accessible battery compartment and a lengthy warranty for peace of mind.
HEAD TO HEAD COMPARISON
Dunlop GCB95 Cry Baby Wah Pedal
Morley VAI-1 Steve Vai Bad Horsie Wah
KEY FEATURES
+ One Year Warranty from Date of Purchase and comes with a User Manual
+ Optional AC Adapter or 9-Volt Battery
+ Hot Potz Potentiometer boasts a 100K Ohms
+ Solid Construction


+ Switchless
+ Battery Compartment
+ Works with Bass Guitar too
+ Two Year Warranty


WHAT OUR TEAM THOUGHT
This Dunlop Cry Baby Wah is linked to some of Rock's greatest musicians, and if this treadle was good enough for them, it's good enough for us. The versatility and solid construction serve only to increase the appeal that this treadle already has, and any musician would be proud to show it off.
The simple black and red design of this switchless treadle, makes for easy operation especially when using with multiple effects-pedals on a pedal board. Ease of use and simplicity may be the obvious benefits, but precision-set wah-tones that emanate as a result, are bliss for any guitarist.
Would you like to know more?
You might also be interested in Music Critic's in-depth article on this topic, The Highest Rated Wah Pedals of 2019 Review.
Similar head-to-head comparisons: