Battle Royale: Comparing the Fender Pro Junior III to the Fender Bassbreaker 007 Combo
In this comparison we put the Fender Pro Junior III and Fender Bassbreaker 007 Combo head to head in a battle to find out which wins the specifications war. You might think it all comes down to the price, but frankly there is a lot more to it. You might also be interested in our article 10 Best Tube Amps of 2019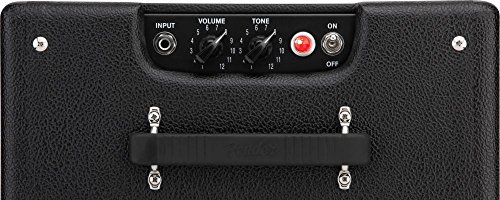 Let's get started by taking a close look at the Fender Pro Junior III. The Fender Hot Rod series amplifiers deliver that unique, identifiable Fender tone. These Fender small tube amps are affordable reliable and surprisingly loud with just a 10-inch speaker they easily rival vintage Fender amps. The Fender Blues Junior III is a basic 15-watt tone machine with stripped back circuitry for a back to basics approach to amplification. Whilst this Fender tube amp doesn't have all the bells and whistles of some of the more expensive models by Fender, it provides a touch sensitive authentic tubes sound. Easy to use and dial in a tone it is a great grab-and-go amp ideal for both beginners and seasoned electric guitar players (see our other review on the top acoustic guitar amps). With fat mid tones and reverb with the infamous slap-back notable in products containing spring reverb housing. The Fender Blues Junior serves up a dynamic response that experienced players crave most. Other upgrades to the model include Additional Fender Blues Junior III upgrades include; lower-noise shielding, and rattle-reducing shock absorbers for the EL-84 tubes. It has great aesthetics with a 'dog-bond' style handle and 'chicken-head' knobs.

The second product we will be examining in this comparison is the Fender Bassbreaker 007 Combo. Bass breaker practice amps are a hard rock offshoot series that feature a powerful 'crunch' not traditionally associated with a Fender tube amp. The Bass breaker 007 Combo guitar amp has hassle-free gain knobs and tone controls and a switchable treble booster for increased overdrive. The sustain is audible but not over bearing at higher gain channel settings, faithful to the instrument dynamics. This hard rock offshoot combo guitar amp has a single EL84 power tube, 2- 12AX7 pre-amp tubes and a Single 10 inch Celestion speaker. A durable and versatile amp with stylish vintage looks. Grey lacquered tweed, leatherette handle and cloth grill. Loaded with complex sounds.
HEAD TO HEAD COMPARISON
Fender Pro Junior III
Fender Bassbreaker 007 Combo
KEY FEATURES
+ Clean-to-drive volume control.
+ Easy to read control panel.
+ Sweet highs and wholesome lows.
+ External speaker capability.
+ Spring reverb housing


+ Treble-booster circuit that adds pre-amp gain.
+ ¼ Line Out Jack to feed output of the amp to a recording device or another line.
+ True Class-A amplification.


WHAT OUR TEAM THOUGHT
These Fender amps are a Prime example of great value for money tube amps and they promote tone creativity, allowing artists to find their own signature sound without over-complicating the process.
This Bassbreaker combo guitar amp is an incredibly loud tube amp from a brand who are integral to modern music.
Read the complete review
Check out Music Critic's in-depth reviews which includes these two plus other potential contenders.
Find more comparisons: