1 on 1 Testing
In this brief comparison, we are going to be putting two products head to head. There is a lot more to this sort of decision than price, so we see if we can help you decide which is best for your needs. For more information and product comparisons, check out our longer article here.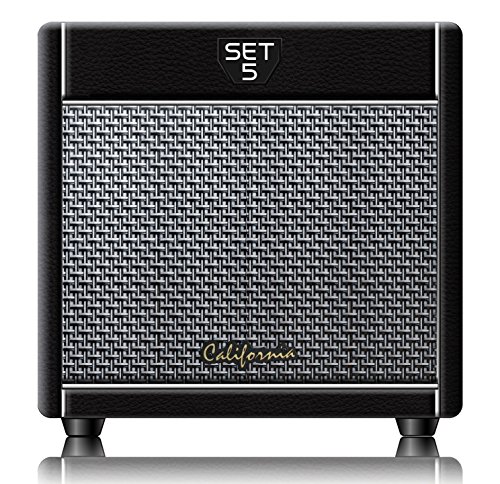 Everyone has different preferences and priorities, so to make choosing easier we have attempted to give a frank review of the products. Let's start with the California Tone Research Set5. The "California (Tone Research) SET-5" guitar amp is a low priced 5W, A class, genuine all tube guitar amp. Featuring 12AX7 pre-amp tube and EL84 power tube for the purest tones an 8-inch speaker can provide. It has one input along with volume levels, treble and bass controls. It has two 1/4 inch outputs for 8 & 16 ohms speakers. Its simplicity is really one of its best features. The cabinet is of a solid structure, it has internal gussets for reinforcement and a vent to aid in cooling. The internal circuitry contains quality components, fiberglass PCB and ceramic sockets as well as a tone control, normally associated with Hi-Fi tube amps allowing for greater flexibility than more conventional designs. It breaks up nicely at high volume levels and gives 'bare bone' tones.

The second product we will be examining in this comparison is the Blackstar HT1R Series.
HEAD TO HEAD COMPARISON

California Tone Research Set5

Blackstar HT1R Series

KEY FEATURES

+ Single end tripod design.
+ Great tones for Jazz, Blues, or Surf's Rock.
+ Ideal practice tube amp.



+ Easy reverb control.
+ MP3/Line input to jam with your favorite tunes.
+ Emulated speaker/headphone output.
+ Switch from normal to overdrive at the touch of a button.



WHAT OUR TEAM THOUGHT

It is a user friendly, affordable tube amp that presents guitarists with quality amp tones for practicing and playing in smaller venues.

The patented ISF control works in conjunction with with the equalization controls giving players access to infinite new tubes sound possibilities to design their own sound with the Blackstar HT1R.
Read our full review
You may also be interested in our article 10 Best Tube Amps of 2023.
Other product comparisons: