How do they stack up? The VideoSecu vs the K&M 21300 Heavy Duty
See how the VideoSecu stacks up against the K&M 21300 Heavy Duty in today's product comparison. Not sure which is right for you? Read on and find the perfect item for your needs. If you would like to see more product comparisons from the same category, click here.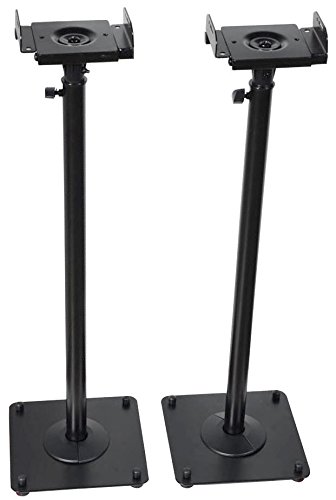 The first product we will be looking at is the VideoSecu.

And now we will have a look at our second product, the K&M 21300 Heavy Duty. For musicians with heavier speakers, these could be the best monitor bases for your studio. With a maximum weight capacity of 100 lbs and a large, tripod style base, these monitor bases are the choice of professionals around the world.
Taking a look at the features of the K&M 21300 Heavy Duty
Height adjustability ranges from 54.5" to 85.8". Plus the hand crank and push button system with an additional locking pin allows unrestricted height flexibility, whilst ensuring stability and prevention of uncontrolled reverse slippage.
HEAD TO HEAD COMPARISON

VideoSecu

K&M 21300 Heavy Duty

KEY FEATURES

+ Central cavity enables cable management
+ Top plate can both tilt and pan
+ Adjustable top plate allows for secure placement of monitors





+ Strong, steel construction
+ Weight capacity of up to 100 lbs
+ Incredibly variable height adjustment
+ Stable, tripod style base



WHAT OUR TEAM THOUGHT

Priced at under $50 dollars a pair these monitor mounts are incredible value. With a clamping top plate adjustable from widths of 5.5" to 11", which can be both tilted and panned, plus the height adjustment of the central column, these studio monitor bases are very versatile. The tough metal construction and inner cable routing, mean that this stand will form an elegant part of any studio.

Tried and trusted by professionals around the World, these stands could well be for you. With their heavy construction and large tripod style legs, these stands do take up quite a lot of space, and so are probably not the top choice for smaller establishments. Versatile, stable and strong, with excellent height adjustability and a large carrying capacity, these stands deserve respect.
Read our full review
You might also be interested in Music Critic's in-depth article on this topic, The Best Studio Monitor Stands for Professional & Home Studios.
Related product comparisons: