Compare the Ultimate Support MS-100B to the DR Pro SMS1BK
Today's product comparison has Music Critic comparing the Ultimate Support MS-100B to the DR Pro SMS1BK. Find out what separates these two items with the full comparison review below. You might also be interested in our article The Best Studio Monitor Stands for Professional & Home Studios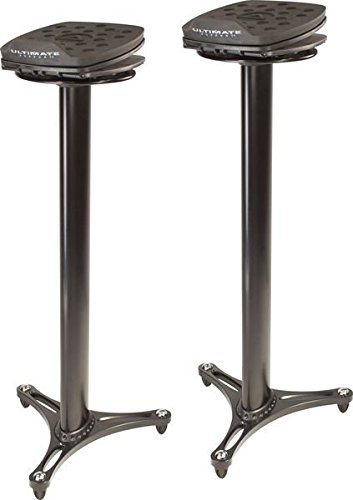 The first product we will be looking at is the Ultimate Support MS-100B.

Next up is the DR Pro SMS1BK. If you're looking for a wood finish monitor base rather than metal the DR Pro SMS1BK Studio Monitor Stand may be the top studio monitor stand for you.
Let's take a closer look at the DR Pro SMS1BK
The central steel column of the monitor stand is hollow and gasket sealed allowing for the addition of your choice of ballasts for the best weight management. However, even without additional weight, these bases are heavy and very stable. Whilst not height adjustable the 36" height of this stand should be the best height for sitting at a studio desk. A classy, wood grain finish means these monitor pedestals will look good in most professional and home settings.
HEAD TO HEAD COMPARISON

Ultimate Support MS-100B

DR Pro SMS1BK

KEY FEATURES

+ Rugged, durable design.
+ 3 internal channels for the best ballast and cable management
+ Great buyer reviews





+ Cable clips supplied for neat wire management
+ Attractive wood grain finish
+ 5 year warranty
+ Gasket sealed, and hollow base



WHAT OUR TEAM THOUGHT

These monitor bases are durable, attractive and suitable for small or professional establishments. The main internal cavity which can be loaded with ballast, plus the decoupling features allow for a really superior, clean sound. Although, not height adjustable the patented, tilt system will allow you to find the best sweet spot. Internal cable routers concealed in the stand helps keep both studies and studios neat and tidy.

TThese medium priced monitor mounts are durable, and with their classy, wood grained finish will fit perfectly into your home or professional studio. Nicely weighted and with an inner cavity for sand or shot, these monitor bases are also very stable. The supplied cable clips will keep every thing neat, and the 5 year warranty should give you some real peace of mind.
Discover more
Check out our article The Best Studio Monitor Stands for Professional & Home Studios for more info.
Find more comparisons: