1-v-1 Product Comparison - the Definitive Technology Professional 600/800 vs the OnStage SMS6000
We will be looking at two popular products, the Definitive Technology Professional 600/800 and the OnStage SMS6000. Our tests and reviews can help point you towards models and brands that suit your needs. You might also be interested in our article The Best Studio Monitor Stands for Professional & Home Studios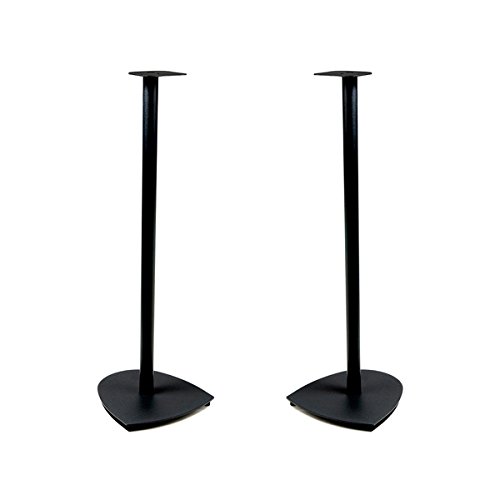 Let's get started by taking a close look at the Definitive Technology Professional 600/800. This sturdy monitor stand has been designed specifically for the smaller range of Definitive Technology's ProMonitor speakers. Although the bases do not come with height adjustment, they are engineered to position the tweeters at exactly ear level, and so ensure accurate sound reproduction in your studio.

The second product we are looking at in this head-to-head review is the OnStage SMS6000.
A closer look at the Definitive Technology Professional 600/800
The central stand has an inner cable guide, which greatly adds to the professional look and appeal of this monitor stand.
HEAD TO HEAD COMPARISON

Definitive Technology Professional 600/800

OnStage SMS6000

KEY FEATURES

+ Designed to place your Monitors exactly at ear level
+ Inner cable guide
+ Constructed from heavy duty, high tensile steel



+ Designed to be portable
+ Strong, with a carrying capacity of up to 90 lbs per monitor
+ Plenty of height adjustability
+ Sturdy and durable



WHAT OUR TEAM THOUGHT

We found this monitor stand very sturdy, yet compact. The screw mounting ensures your speakers are kept securely in place, and the leveling spikes and rubber glides keep your monitors steady. Although they aren't height adjustable they have been engineered to place your monitors at ear level. The leveling spikes and rubber glides ensure each stand is suitable for both carpeted and hard studio floors.

These popular studio monitor mounts are used by both professionals and amateurs alike. Numerous holes on the central column allow you to pinpoint your optimum sound with the best precision. The arc-welded construction is strong and durable, and an 18" base spread, will ensure a very stable stand for your expensive monitors. Clear assembly instructions and an allen wrench are provided, enabling each studio monitor stand to be assembled in minutes. Related: Stage Monitor Review.
Want to find out more?
You might also be interested in Music Critic's in-depth article on this topic, The Best Studio Monitor Stands for Professional & Home Studios.
See more head-to-head comparisons of products: