Side-by-side comparison
In this brief comparison, we are going to be putting two products head to head. Not sure which is right for you? Read on and find the perfect item for your needs. This product comparison article is just one in a series titled Top 10 Best Solid State Amps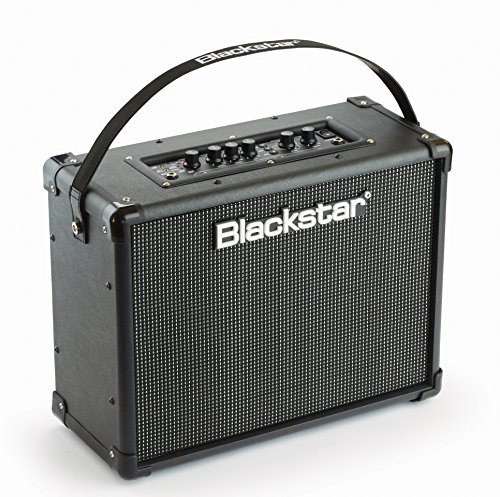 Let's get started by taking a close look at the Blackstar IDCORE40. This versatile programmable combo amps is the end result of 7 years technical research and refined product development by the Blackstar company originally founded by ex-Marshall employees. While relatively new with the music industry at 11 years old they have already produced a host of amplifier series. The ID series are their contemporary digital amplifiers for modern day acoustic and electric guitar players. Adequate volume levels for something so small it is a powerful practice amp. It has 6 voice control settings clean warm, clean bright, crunch, super crunch, Overdrive 1 and 2 to be used in conjunction with its signature ISF control to find your desired custom tone.

The second product we are looking at in this head-to-head review is the Marshall CODE 100W. The Marshall CODE range offers a choice of impressive digital amp models, FX and more. Just like the 25 model reviewed above this amplifier manifests a flawless mix of Marshall's authentic tones with pro-quality effects into a multi-faceted masterpiece. It has a single input with 14 preamp models, 4 power amp models, 8 speaker cab models, 3-band EQ, gain, volume, modulation, delay, reverb, 100 presets and 24 FX of which 5 can be used simultaneously.
Reasons to buy the Blackstar IDCORE40
This Blackstar combo amp produces studio quality effects that can be stored. The 12 Effects include standard modulation, delay, and reverb. It has a handy stereo Mp3/line input so you can plug in your favorite tunes to jam along to with your studio headphones you can perfect your power chords without disrupting anybody. Only $199.99.
Examining the Marshall CODE 100W
The tone tweaking possibilities of the code series are practically infinite allowing the musician to really dial in on finding their own unique sound. Featuring Android integration it is a stunning high end digital solid-state amplifier a little pricier than the 25-watt version at $449.99 but definitely more bang for your bucks.
HEAD TO HEAD COMPARISON

Blackstar IDCORE40

Marshall CODE 100W

KEY FEATURES

+ Super wide stereo sound.
+ features a mini USB connection.
+ Handles low registers well.



+ includes a 2 way foot switch
+ Glistening clean channel
+ App for updates and patch sharing



WHAT OUR TEAM THOUGHT

The amp features typical intuitive control presets but also provides digital program ability.

It is an out standing marvel of amplification, eliminating the need for multiple effects pedal once and for all. It really is quite limitless.
Want to find out more?
Check out Music Critic's in-depth article Top 10 Best Solid State Amps which includes even more information.
Other product comparisons: