1 on 1 Testing
We will be looking at two popular products, the Fender Mustang I V2 and the Orange Crush Pix CR12. Not sure which is right for you? With so many great options on the market that's hardly surprising, so read on and see if we can help you reach a decision. If you would like to see more product comparisons from the same category, click here.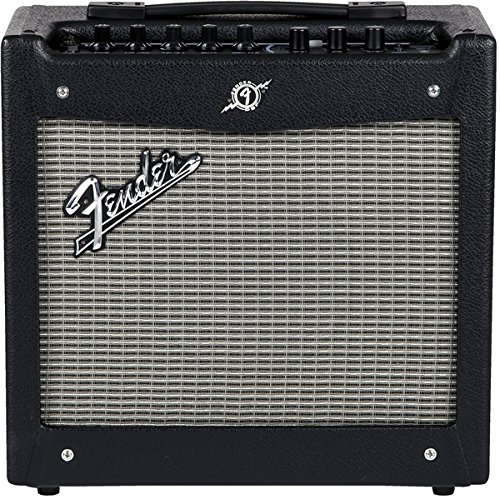 Contestant number one is the Fender Mustang I V2. A great solid state amp from an integral industry giant. Fender has continually manufactured instruments and instrument accessories since 1946, helping shape the evolution of product designs. They produce the distinctive fender tone and are furnished with an abundance of built-in effects. The Mustang's 17 amp voice settings take acoustic or electric guitar players from an authentic tube amp tone to modern unique sounds.

Now we will have look at an alternative, the Orange Crush Pix CR12. This compact 12W 6 inch speaker proves good things really can come in small packages. Whilst it doesn't sport any of the high-tech mod cons like some of the digital solid state guitar amps we have reviewed so far this teeny feat of manufacturing packs quite a punch. Sometimes multiple onboard effects can be overwhelming. Most solid-state amps with complex effects generally cost extra and you can end up forking out for 50 plus tones you will hardly ever use just to get the one you were after. The orange crush keeps things simple and not to mention, affordable.
More about the Fender Mustang I V2
The amplifier also has the ability to connect via USB utilizing it's inspirational Fender FUSE software, allowing players to colorfully adjust every sound to their individual preference kicking the preset sound options up a tonne of gears. Appealing to modern players and providing compatibility which in keep keeping with the direction of up-to-date music technology. It is compact but punchy and reasonably priced a $119.99.
Let's take a closer look at the Orange Crush Pix CR12
The 3 -band EQ settings, (Treble, Middle, and Bass) along with Overdrive and Gain controls make it child's play to find a great tone to practice with. You can get great dirty and super fuzz sounds. Orange amps have their own unique tone. It is so light-weight which means it is ideal for taking on the road as a travel practice amp for beginners and pro's alike. Exhibiting the famous retro look Orange amps are well known for with its bright orange casing and basket-weave grille. Astounding volume from a miniature amplifier that costs just $99.00!
HEAD TO HEAD COMPARISON

Fender Mustang I V2

Orange Crush Pix CR12

KEY FEATURES

+ Just 7.6 x 15.5 x 14.5 inches-super portable.
+ 17 amp voices and 24 on-board effects. For use across a wide variety of genres
+ Includes Ableton Live Lite 8, Fender Edition recording DAW software and AmpliTube Fender LE edition software apps for Mac and PC for recording musings as well as jamming and playing



+ Good clean tone.
+ Great distortion.
+ Headphone out-put option.



WHAT OUR TEAM THOUGHT

USB connectivity and DAW software options present players with infinite possibilities as far as artistic license is concerned.

It sports the looks of unique, vintage amp and is surprisingly loud for its size.
Would you like to know more?
Music Critic did a post with even more information on this topic. Click here to see it.
See more head-to-head comparisons of products: