1 on 1 Testing
Trying to decide between two models? You might think it all comes down to the price, but frankly there is a lot more to it. If you would like to see more product comparisons and reviews in this category, click here.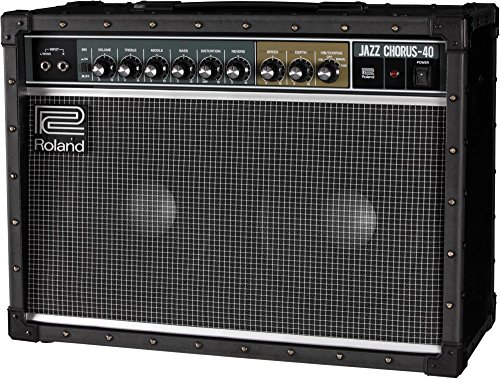 Everyone has different preferences, and we hope our frank reviews will make your decision easier. First, we will take a look at the Roland JC-40 Jazz Chorus. The Roland JC-40 is a Jazz Chorus solid-state Combo Amplifier. Essentially the Roland Jazz Chorus is a scaled down, lower (40) watt version of the Roland JC-120 Jazz Chorus, arguably the bench setter for clean electric guitar tones during the last 40 years and used by a number of professionals including James Hetfield. It is equipped with the same plethora of onboard effects for modern electric guitarist and produces the same unmistakable JC clean tone as its esteemed, high watt predecessor.

The challenger is the Marshall Code 25. Harboring a variety of clean tone options as well as vintage crunches, and modern high gains to mix and match which can then be run through a choice of cabinet simulations. Offering a selection of 24 effects to combine into a versatile product setup.
Let's take a closer look at the Roland JC-40 Jazz Chorus
Additionally, the Roland Jazz Chorus JC-40 offers a true stereo input for performance enhancement when using effects pedals and other amp modeling and effects gear. Let's break down the controls; 3-band EQ, reverb, speed, depth, bright, volume, vib/chorus, and an FX loop switch.
A good look at the Marshall Code 25
The 14 preamp sounds do a fantastic job at mimicking the include all the classics you would expect to find such as the JTM45, JCM800, and the legendary Silver Jubilee a highly authentic model of Marshal's legacy all squashed into a 10-inch cabinet with 25 watts of power. Like other digital Solid state guitar amps, it has a USB direct-in for home recording capabilities. Its tiny size makes it an ideal piece of equipment for busking as well as fit for small home studio set-ups. Priced at $249.00 featuring a host of FX combinations without breaking the bank.
HEAD TO HEAD COMPARISON

Roland JC-40 Jazz Chorus

Marshall Code 25

KEY FEATURES

+ Durable, solid construction for longevity.
+ Incorporates innovative refinements for modern acoustic and electric guitar use.
+ Delivers rich inimitable sound.



+ 4 power amp models, 14 pre amps, 8 cabinet models and 100 presets.
+ Can be connected via Bluetooth technology or USB input.
+ remote control via the Marshall Gateway software



WHAT OUR TEAM THOUGHT

This solid-state Combo provides industry-standard tones without the burden of using multiple amps.

It bestows musicians with the ability to satisfy their personal tastes by easily adjusting the presets.
Would you like to know more?
Check out our article Top 10 Best Solid State Amps for more info.
Related product comparisons: