1-v-1 Product Comparison - the Earamble Studio vs the Aokeo Professional
In today's comparison we invite you to see how the Earamble Studio stacks up against the Aokeo Professional. Not sure which is right for you? With so many great options on the market that's hardly surprising, so read on and see if we can help you reach a decision. Click here if you would like to see more product reviews in the same category.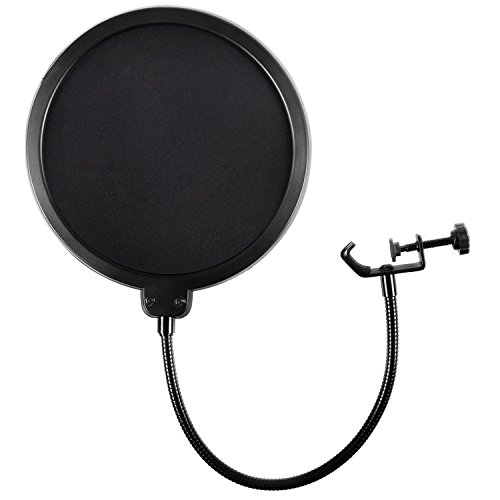 First, let's have a look at the Earamble Studio. With Earamble's pop filter being the best-selling pop filter on the market, we won't have to do much convincing. It has a good size and the gooseneck doesn't move around when you are trying to hit your high-notes! It's one of the most affordable and durable options on the market today; if you are still wondering if the recording career or hobby is for you, Earamble will help you test out your theories! With its high-quality performance, you will be sure to fall in love with the world of entertainment even more.

The second product we are looking at in this head-to-head review is the Aokeo Professional. Looking for a professional pop filter? Aokeo is an industry standard and has many quality pieces of equipment on the market! With this product, you can be sure you will only get the best treatment. Also armed with two filters,they will eliminate any disturbances as your voice travels through both of them and emerges again with crisp and smooth sounds.
A good look at the Earamble Studio
Thanks to the double-layered mesh pop filter your new piece of equipment won't be gathering dust anytime soon. With this pop filter you will eliminate any disturbances without changing the pitch or frequency of your voice, and without dulling it down either. It's a product worthy of its price, and definitely offers a lot more than other filters on the market with the same price.
Taking a closer look at the features of the Aokeo Professional
While many other filters may have problems when it comes to clamps and end up slouching over the microphone in the long-run, Aokeo's pop filter is not one of them. The sturdy clamp and arm will hold up the pop filter in place and let you allow to focus on your recording only. With its flexibility, you will be able to place the pop filter in any position comfortable and suitable for your recording session.
HEAD TO HEAD COMPARISON

Earamble Studio

Aokeo Professional

KEY FEATURES

+ double-layered mesh
+ sturdy gooseneck
+ 18-months warranty



+ compatible with most microphones
+ sturdy and durable gooseneck
+ professional, quality performance



WHAT OUR TEAM THOUGHT

With Earamble's pop filter being the best-selling product on Amazon, it's easy to see why. It's affordable, has a durable gooseneck and a double-layered mesh that prevents any pop sounds, dust or rustles coming through. If you are just starting out and need to test the waters with one of the best filters out there, the Earamble pop filter is the choice for you!

If you are looking for a professional product that will give you the best protection from plosives and hisses, Aokeo will supply you with such. It's a universally compatible pop filter that will end up serving you through years of recording sessions. If you want a pop shield that will do its job at a professional level, this is the pop mask for you!
Read the complete review
You might also be interested in Music Critic's in-depth article on this topic, The Top Mic Pop Filter For Your Studio In 2022.
Similar Product reviews: