Select and Compare: Auphonix Diameter to the Mudder Windscreen
Music Critic review products for professionals and enthusiasts, and are designed to help making a choice easier. Our tests and reviews can help point you towards models and brands that suit your needs. If you would like to see more product comparisons from the same category, click here.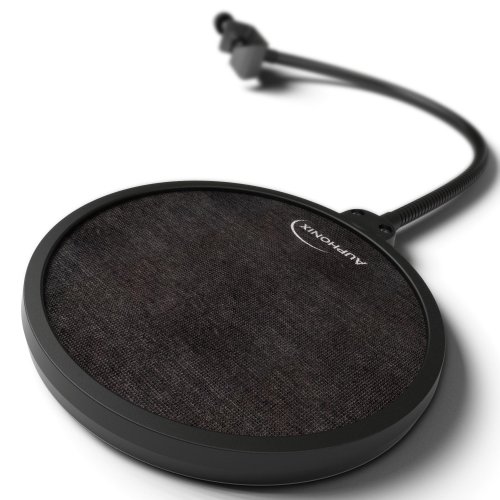 Everyone has different preferences, and we hope our frank reviews will make your decision easier. First, we will take a look at the Auphonix Diameter. Auphonix's product is a pop filter of 6" in diameter and has a mesh screen from both the front and the back. When buying this product you will also get an e-book on recording tips and tricks! If you are just starting out in the entertainment world, this is a bundle that will benefit you greatly. You will get insight into making the best recordings and how you can improve. The double layer of mesh ensures that you will not get any sort of distortion as you talk or sing!

The second product we are looking at in this head-to-head review is the Mudder Windscreen. Another best quality product at an affordable price! Mudder's pop filter will sit with you during your long podcast or recording sessions and allow you to block out any unwanted noises effortlessly. The gooseneck can twist around up to 360 degrees and will accompany you wherever you decide to twist and turn. The arm doesn't budge and makes for a sturdy and reliable companion during recording times.
More about the Auphonix Diameter
The gooseneck is flexible and allows you to twist and bend the device to suit whichever position you are in. It is also sturdy, so you don't have to be afraid of it breaking in two after one or two recording sessions or drooping down slowly when you are trying to record a serious passage! There is a 12-month money back guarantee, but it's doubtful you will need it since the tightly woven fabric and durable design of this product should last you a long time!
Taking a look at the features of the Mudder Windscreen
This pop filter also doesn't bind you to your home, it's portable and you can take it wherever you decide to travel with no fuss. You can also tighten the clamp so that you are sure it stays in place as you stay focused on the recording aspect of the session. One thing is sure, you won't be fussing around trying to make Mudder's pop filter work. It's an affordable and durable pop filter that will perform at its best, no matter what microphone you attach it to!
HEAD TO HEAD COMPARISON

Auphonix Diameter

Mudder Windscreen

KEY FEATURES

+ comes with a free e-book on recording tips and tricks
+ a double mesh-screen
+ sturdy gooseneck



+ portable
+ flexible gooseneck
+ double-filter



WHAT OUR TEAM THOUGHT

If you are serious about your new hobby or upcoming career, Auphonix's product is a great investment and should provide you with hours of clear and smooth sounds with no rustles, pops or any of the alike! The free e-book is also a great addition and should aid you with your sound engineering and recording endeavors!

If you have just spent all of your cash on an expensive microphone and need a cheap and affordable pop filter that will do its job, Mudder Studio can offer you just that. With their pop filter, they will make sure to only give you quality recording sessions that will mute any kinds of annoying noises that could disturb the audience!
Want to find out more?
Check out our article The Top Mic Pop Filter For Your Studio In 2023 for more info.
Similar Product reviews: