1-v-1 Product Comparison - the Auphonix Premium vs the InnoGear
We take a look at two popular items, the Auphonix Premium and the InnoGear. Our tests and reviews can help point you towards models and brands that suit your needs. This product comparison article is just one in a series titled The Top Mic Pop Filter For Your Studio In 2023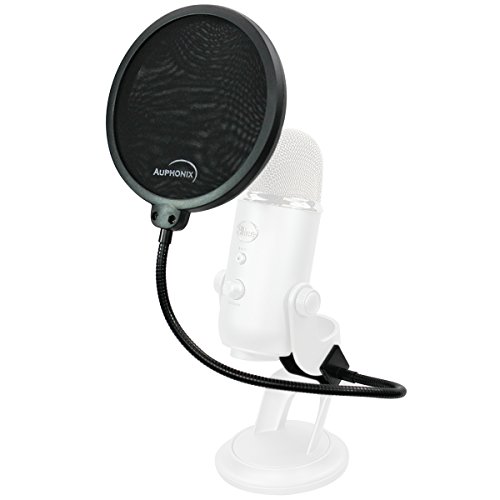 The first product we will be looking at is the Auphonix Premium. Here we have another one of Auphonix's filters that is held in high-regard and is followed by a line of 5-star reviews. Although this pop filter is specifically designed for the Blue Yeti microphone, it's not its only use. You can attach it to your desk (click here for the guide) so that it hovers any other microphone of your choice! The best product for reducing any unwanted noises in your recordings or podcasts.

Next let's have a look at the InnoGear. InnoGear's pop filter is another of the best filters that you can get at a low-price. That said, you can be sure that it will give you only the best of performances! The best feature of this pop filter is the universal compatibility that it offers; the adjustable clamp can be attached to all types of microphones . To add to that, it also has a scratch-proof gripper, which will make sure that your equipment keeps its shine for as long as possible!
Reasons to buy the Auphonix Premium
With Auphonix's signature double-mesh feature, you can be sure this product won't give you any distortions or rustles either. It clamps easily to square or rectangular surfaces, which is definitely a plus since most pop filters in the industry are designed to fit a tubular design. With Auphonix's clamp, you can attach the pop filter to any angular surface, whether you are on the go are at home (click for mics for home recording), you can be sure you can take the product right along with you! The gooseneck supports its own weight and doesn't move around, you can focus solely on recording with this pop filter.
Examining the InnoGear
With a swivel mount, you don't have to worry about any complications during the installation. Armed with two pop filters, the first layer blocks all of the frustrating plosives and breathing noises, while the second additional layer blocks and disperses any air that could have remained present. It's easy to adjust the angle of the gooseneck and the distance between the pop filter and the microphone for optimal performance. After all, you don't want to have the whole pop filter covering your face!
HEAD TO HEAD COMPARISON

Auphonix Premium

InnoGear

KEY FEATURES

+ clamp that suits rectangular surfaces
+ double-mesh feature
+ strong and sturdy



+ double-layered filter
+ adjustable gooseneck
+ swivel mount



WHAT OUR TEAM THOUGHT

Auphonix has proven to be a strong and quality brand that only produces equipment worthy of your time. You won't have to fiddle with a drooping pop filter or worry about popping sounds, with this product you will only have to clamp the pop filter onto the microphone and start recording with the best quality equipment!

You cannot go wrong with this affordable and quality pop filter. If you are looking for an affordable option that will ensure you only get the best experience from your recording sessions, InnoGear will supply you with exactly that and more! The double-layer pop filter will block out any unneeded noises and awe your audience with the clear sound!
Read our full review
Music Critic did a post with even more information on this topic. Click here to see it.
Find more comparisons: