1 vs 1 Comparison
Today's product comparison has Music Critic comparing the Moog Moogerfooger MF103 12 Stage to the Joyo JF-06 Vintage Phase. Not sure which is right for you? Read on and find the perfect item for your needs. Click here if you would like to see more product reviews in the same category.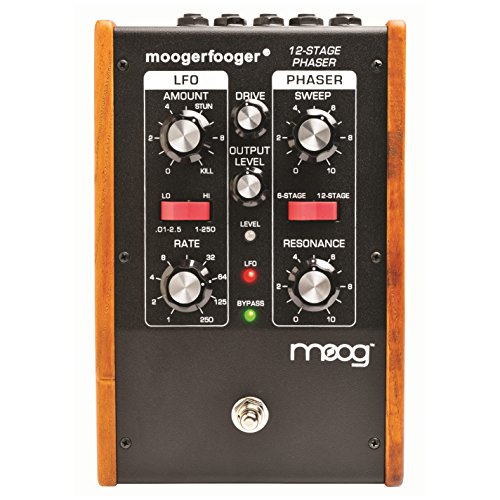 Everyone has different preferences and priorities, so to make choosing easier we have attempted to give a frank review of the products. Let's start with the Moog Moogerfooger MF103 12 Stage. A highly sophisticated analog Phaser pedal that goes above and beyond common Phaser capabilities with its complimentary Low Frequency Oscillator effectively it is a guitar effects pedal two-for-one. Genuine vintage tones supplied by its all analog circuitry. Marketed as "the holy grail of analog phase" it has plenty of notable aspects to back up it's claims. As well as the vital variable Rate knobs we are given a host of controls to play with. Use the drive control to raise or lower the gain, Shift the Phaser response over a six-octave range with the sweep control. Switch between Lo/Hi LFO ranges. Other adjustable features include Resonance and Amount (which gives you authority over just how much the LFO modulates the sweep parameters. Acknowledged for frequent contemporary use in live performance and studio production. The parameters is offers the users control over make it well worth its retail value. Modeled in the image of Moog modular synthesizers that came before, it's design makes it fit for purpose with any sound source guitar bass vocals etc.

Now we will have look at an alternative, the Joyo JF-06 Vintage Phase. The Joyo JF-06 Vintage Phase budget Phaser pedal, clone option that has been modeled with the exemplary inspiration of the Phase 90, Van Halen sound. Exhibiting one, solitary dial that controls the whole enchilada it has never been simpler to revive the fat Phaser sounds of the 70's. Increase the rate of the pulse cycles using the speed feature to replicate the Phaser sounds you desire.
Let's take a closer look at the Joyo JF-06 Vintage Phase
Joyo is a Chinese company, which can raise alarm bells for some, over quality of the components. This is something they pride themselves highly on and like other electric guitar pedals they have in production the reviews support their statements. Doling out delicious dive-bombs and swirling fuzz pedal sounds prominent in popular recordings, with just the twist of a wrist.
HEAD TO HEAD COMPARISON

Moog Moogerfooger MF103 12 Stage

Joyo JF-06 Vintage Phase

KEY FEATURES

+ Drive control has a demonstrative Tri-color LED helps indicate the level of volume gain.
+ State of the art analog Circuitry.
+ Fully loaded range of sounds from sedate surges to sonic destruction.
+ Durable steel and hardwood housing.



+ Good range -from underwater to subtle shimmers.
+True Bypass wiring.
+Cheap and cheerful choice.



WHAT OUR TEAM THOUGHT

The functional diversity of the Moog Moogerfooger MF103 phaser makes it a super-tool for exceptional chorus exploration, a self-confessed secret weapon to add to your effects stash. Like analog? Try these top rated analog delay pedals!

The Joyo JF-06 Vintage Phase effect pedal is so economic you can buy 2 and switch between different pre-adjusted settings!
Would you like to know more?
Check out our article 10 Best Phaser Pedals of 2023 for more info.
Similar Product reviews: