Side-by-side comparison of the MXR EVH90 Phase 90 and the MXR M290 Phase 95 Mini
See how the MXR EVH90 Phase 90 stacks up against the MXR M290 Phase 95 Mini in today's product comparison. The Music Critic reviews can help point you towards models and brands that suit your needs. Click here if you would like to see more product reviews in the same category.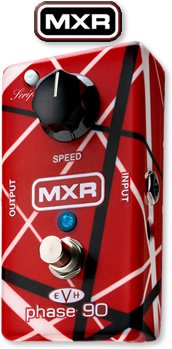 Contestant number one is the MXR EVH90 Phase 90. This gratifying Phaser guitar effects pedal is a revised, modified version of the, already esteemed MXR phase 90 widely used the 70's and 80's. The upgraded model is the promising progeny of Jim Dunlop and none other than Eddie Van Halen. Sporting the same eye-catching graphics of Van Halens iconic Frankenstrat guitar. Providing the same spacey swirls and distinguishable rings and it's humble former self. Tailor the speed of the phases and let the guitar effects pedal take care of the rest.

And now we will have a look at our second product, the MXR M290 Phase 95 Mini. The pivotal MXR 90 was the first pedal MXR produced. Regarded as superlative by many legendary guitarists who made their way into the 'Rock and Roll Hall of Fame'. It pioneered evolutionary offspring such as Phase 100 and the Phase 45. This Phase 95 is a mini pedal version which allows you to switch between the Iconic 90 and 45 tone capabilities. In essence it is a 4-in-1 Phaser with a trouble-free control over a variety of functions. Default mode is 'Block' which emulates modern deeper sounds using feedback to create harmonic distortions, toggling on the 'Script Logo' switch generates mellower vintage feel tones. It removes the feedback for clearer, more lush Phasing.
A good look at the MXR EVH90 Phase 90
The MXR EVH90 Phase 90

's effortless switch mechanism enables players to effortlessly toggle between a vintage or modern voicing, with its Script Logo and Block Logo Phaser settings. It has streamlined dimensions when compared to it's blocky predecessors, so should fit most pedal boards.
HEAD TO HEAD COMPARISON

MXR EVH90 Phase 90

MXR M290 Phase 95 Mini

KEY FEATURES

+ Switch instantly between classic phaser vibes and in your face warbles.
+ Simple single knob operation.
+ LED status light.
+ Script Logo and Block Logo Phaser settings



+ Half the footprint of traditional MXR guitar pedals for guitar, perfect for any pedal board.
+ Modern option from a company that built all the foundations of Phaser capabilities.
+ Range of old and new Phaser options, grand swooshes.



WHAT OUR TEAM THOUGHT

The MXR EVH90 Phase 90 is a modern re-invention a of a staple classic phaser pedal, with the added cherry topping of Celebrity sealed approval from the father of Phasers himself.

It is a great example of one of the best mini Phaser pedals on the market, a cool combination of 2 acclaimed predecessor pedal that helped define Phaser sound itself.
The Bottom Line
Check out our article 10 Best Phaser Pedals of 2023 for more info.
Other product comparisons: