Battle Royale: Comparing the Behringer Vintage Phaser VP1 to the EarthQuaker Devices Grand Orbiter V2
We will be looking at two popular products, the Behringer Vintage Phaser VP1 and the EarthQuaker Devices Grand Orbiter V2. The Music Critic reviews can help point you towards models and brands that suit your needs. If you would like to see more product comparisons from the same category, click here.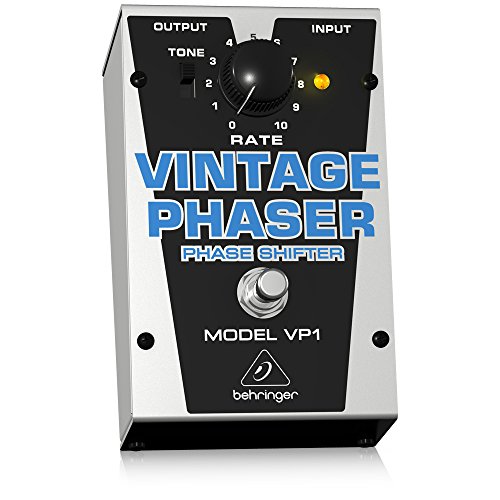 Let's get started by taking a close look at the Behringer Vintage Phaser VP1. Sometimes as a seasoned guitar player its easy to dismiss or overlook a pedal with a low price on Amazon. Behringer are really bringing their A-game these days when it comes to affordable quality products designed to compete with leading competitors.

The challenger is the EarthQuaker Devices Grand Orbiter V2. EarthQuaker Devices are known to be providers or unbeatable handmade analog pedals using quality components. The Grand Orbiter is no exception, packed with features that make it a wholly versatile effects pedal. The augmented 3 way rate toggle sets the basic modulation effect range 1 being slow sweep mode, 2 Kills LFO and 3 for rapid sweeps. It has a flashing LED visual aid which remains on whilst bypassed so you know what it was previously set to eliminating the possibility of kicking in with a mistaken setting on your next solo! There is also a Rate dial to further perfect the LFO speeds.
More about the Behringer Vintage Phaser VP1
With a variety of impressive shifting sounds up it's sleeves, the Behringer Vintage Phaser VP1 produces three-dimensional phases with dedicated rate knobs and color switch. It enables players to dial in Authentic tones from bubbly rotary effects, to dramatic jet plane sounds and languid cries. With the rate knobs cranked you can produce an chaotic, almost robotic chatter but its slow to medium traditional settings provide fluid space and warmth. Sturdy metal Jacks, rugged hardy design and handy status LED.
Examining the EarthQuaker Devices Grand Orbiter V2
Master the intensity of effects by blending them more or less with the dry signal using the incremental Depth dial. Capable of a range of phaser shifts from lively chaos, through leisurely swoops to a darkened sluggish 70's feel. Using the resonance dial you can controls how defined the resonant tone becomes.
HEAD TO HEAD COMPARISON

Behringer Vintage Phaser VP1

EarthQuaker Devices Grand Orbiter V2

KEY FEATURES

+ True hard wired bypass for optimal integrity.
+ Quiet switching action.
+ Reviewed as suitable for bass guitar.
+ Dedicated rate knobs and color switch



+ 100% Analog.
+ Updated 'flexi-switch' relay based switching for silent click in and out.
+ New, smaller footprint than previous versions.
+ Can also be used as a true pitch vibrato engaging the vibrato switch instead of Phaser.



WHAT OUR TEAM THOUGHT

The Behringer Vintage Phaser VP1 is a bargain Phaser guitar effect pedal with appealing retro style aesthetics, we like the tone switch which inverts polarity allowing users to alternate between a more traditional Phaser sound to luxurious shimmering shifts.

Provides comprehensive control, from a trusted pedal guru committed to producing affordable, high-quality tone creation.
Read the complete review
Also see Music Critic's article 10 Best Phaser Pedals of 2023 which includes even more information.
Related product comparisons: