Compare the Mogami GOLD to the Fender Performance Series
We will be looking at two popular products, the Mogami GOLD and the Fender Performance Series. The team take this task very seriously - two products enter, but only one can leave. If you enjoy this article, you can also check out the full version here.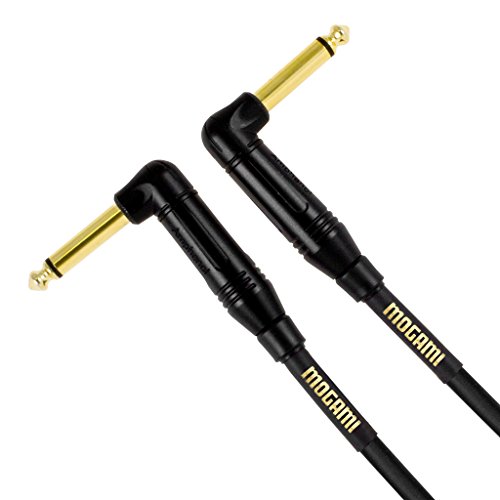 Everyone has different preferences, and we hope our frank reviews will make your decision easier. First, we will take a look at the Mogami GOLD.

And now we will have a look at our second product, the Fender Performance Series. Fender is a great brand when it comes to electric guitars, but is their patch cables for pedal boards any good? Yes, they are! The extra-thick PVC jacket reduces their Fender custom pedal couplers offer a 90% copper coverage shield that minimizes electronic buzz, and handling noise.
A closer look at the Fender Performance Series
The Fender Performance series metal plugs are right angle, which saves space on your pedal board. Another great thing about them is that they come with a lifetime warranty, so all your patch cable-worrying days are officially over!
HEAD TO HEAD COMPARISON

Mogami GOLD

Fender Performance Series

KEY FEATURES

+ Extremely high-quality
+ Looks nice
+ Lots of different lengths to choose from



+ Great sound
+ Noise is really reduced, both handling noise and electronic buzz
+ Right-angle
+ Lifetime warranty



WHAT OUR TEAM THOUGHT

We're in love with these Mogami Gold patch cables! They seem to have no bad things about them, just pros all the way! They come with a lifetime warranty, which is amazing, they provide you with extreme clarity, and any potential handling noise is eliminated before it even happens thanks to the anti-static shield layer. They even look good! We can't think of any reason not to buy these except for maybe the price if you're looking for a bargain. But on the other hand, how many cheap cables will you need to buy in your lifetime? Probably a lot, whereas this one will last you forever, and if not, you'll get a new one thanks to the warranty. Finally, we want to encourage you to watch this video, where Mogami Gold is compared to a cheaper brand. The difference is amazing! [lyte id="tUG4FkRSf2c" /]

This stand can easily be integrated into any studio or stage. It would not be wrong to say that its use therefore can be applied to diversified settings. And the cable will work well with most microphones. It is a mixture of efficiency and durability at its best.
The Bottom Line
Check out Music Critic's in-depth reviews which includes these two plus other potential contenders.
See more head-to-head comparisons of products: