Compare the Ernie Ball Earthwood Folk to the D'Addario EJ25B Pro-Arte Flamenco
See how the Ernie Ball Earthwood Folk stacks up against the D'Addario EJ25B Pro-Arte Flamenco in today's product comparison. The Music Critic reviews can help point you towards models and brands that suit your needs. For more information and product comparisons, check out our longer article here.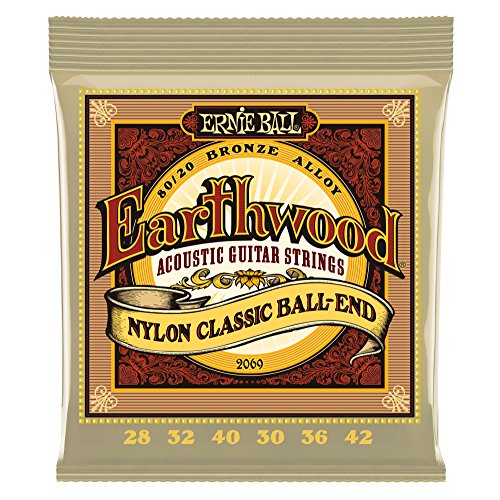 First, let's have a look at the Ernie Ball Earthwood Folk. These are one of Ernie Ball's more classic set of strings, they offer a typical tone and feel but can be slow to settle in they are a medium tension offering a great middle ground option for comfy playing without being too soft. The Ernie Ball company are the one of the biggest string manufactures in the world with decades of production under their belts.

Now we will have look at an alternative, the D'Addario EJ25B Pro-Arte Flamenco. Another excellent option from one of the worlds oldest string brands Given the product name there is probably no need to discuss the brief that D'Addario had in mind for these.
A deeper look at the features of the Ernie Ball Earthwood Folk
The G-string can feel a little dull especially in comparison to D'Addarios we have reviewed. However they do offer a range of Nylon options that genuinely provide a range of desirable tones. The Earthwood Folk Nylon guitar strings are the bare bones version if you'd like of some of their more interesting options. These Ernie Ball Earthwood Folk nylon strings are Ball-end so are more convenient to string, ideal if you break one on stage and don't have a spare guitar 'tut tut'.
A good look at the D'Addario EJ25B Pro-Arte Flamenco
The dense bass strings have been manufactured with a variation in the composite of their usual unique multi-filament materials. This provides that desirable snappy attack response. With flexible black nylon treble strings that provide a complimentary bright contrast to their hardier bass notes.
HEAD TO HEAD COMPARISON
Ernie Ball Earthwood Folk
D'Addario EJ25B Pro-Arte Flamenco
KEY FEATURES
+ Medium Tension.
+ Nuance clarity.
+ Easier to string.


+ Brash percussive bass sounds for emotional flamenco expression.
+ Gut-like trebles.
+ State of the art fabrication.


WHAT OUR TEAM THOUGHT
The Ernie Ball Earthwood Folk nylon strings provide a good steel string sound but are much softer on fingers from a reputable brand.
There are lots of nylon classical guitar strings on the market that claim to have an individual tone and feel, but these a are a cut above the rest where their basses are concerned they are the crispiest going and give outstanding projection without muddy buzz.
Want to find out more?
Check out Music Critic's in-depth article 10 Best Nylon Strings in 2019 which includes even more information.
Other product comparisons: