Side-by-side comparison
We take a look at two popular items, the D'Addario EJ45 Pro-Arte and the Albert Augustine AUGREGALBLUSET Regal Blue. The Music Critic reviews can help point you towards models and brands that suit your needs. This article is part of a series called 10 Best Nylon Strings in 2019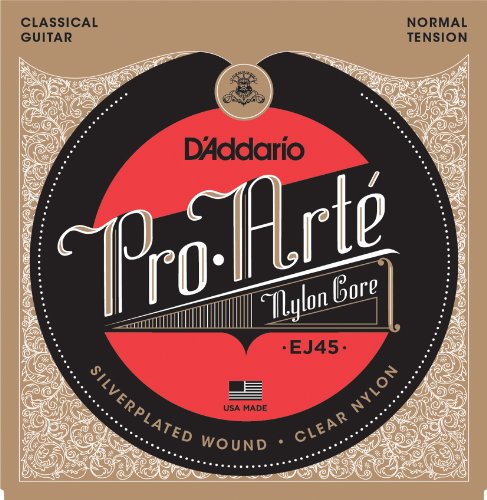 The first product we will be looking at is the D'Addario EJ45 Pro-Arte. Every single set of D'Addario strings benefit from more than 300 years of experience, since their humble Italian roots. The D'Addario brand are actually responsible for designing the very first, innovative winding machine, which inspired all of the machines that modern manufacturers use to make strings today.

The challenger is the Albert Augustine AUGREGALBLUSET Regal Blue. An elegant set of high tension strings from the company that kick started the nylon revolution and moved musicians away from intestinal intonation and silk sounds. The Albert Augustine product range encompasses a tri-factor of string options to choose from (Classic, Imperial, and Regal) each with their own subtle variations.
Examining the D'Addario EJ45 Pro-Arte
The Pro-Arte line is one of the string brands top-selling classical string set, offering regular tension and comfortable resistance. Each string is produced using a laser assisted measuring process and the basses are precisely wound to a high level of quality control. The basses are composed of multi-filament nylon which is bound with silver-plated copper which give them a warmer blended sound when they ring.
Examining the Albert Augustine AUGREGALBLUSET Regal Blue
These Regal Blue classical guitar strings hard tension offer a mix of trebles from their exclusively from their classic regal set and basses from the Blue set (color code for their hardest tension). This produces a mix of full bodied soft tones.
HEAD TO HEAD COMPARISON
D'Addario EJ45 Pro-Arte
Albert Augustine AUGREGALBLUSET Regal Blue
KEY FEATURES
+ Normal tension, balanced playing.
+ Laser sorted.
+ Trusted brand.


+ Bright projection.
+ Regal sets are new and made using a modern manufacturing process for better consistency.
+ Extra Hard tension classical guitar strings


WHAT OUR TEAM THOUGHT
The D'addario EJ45 Pro-Arte nylon classical strings are a typical go to set of strings for the majority of musicans that want classical winding, they provide pristine projection and really bring out the natural beauty of your string instrument.
These Extremely high tension strings by Albert Augustine provide a really urgent attack, whilst they need some breaking in they are retain true intonation and offer great high end frequency representation.
Read the complete review
You might also be interested in Music Critic's in-depth article on this topic, 10 Best Nylon Strings in 2019.
See more head-to-head comparisons of products: