1 vs 1 Comparison
Today's product comparison has Music Critic comparing the D'Addario EJ46C Pro-Arte Composite to the D'Addario EJ34 Folk. Not sure which is right for you? Read on and find the perfect item for your needs. This article is part of a series called 10 Best Nylon Strings in 2019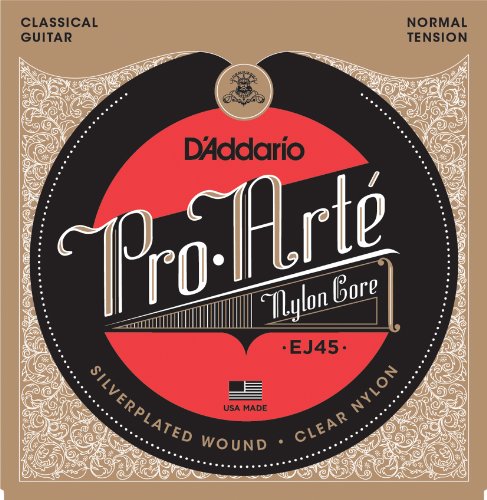 Everyone has different preferences, and we hope our frank reviews will make your decision easier. First, we will take a look at the D'Addario EJ46C Pro-Arte Composite. The D'Addario EJ46 Pro-Arte are an innovative harder tension option from the above series. Like the basic Pro-Arte reviewed above these are made with all the familiar features of the D'Addario family heritage. Laser balanced by machine as we have come to expect from their products. The D'Addario EJ46 Pro-Arte differ with their bass strings composite polymer cores which are as usual silver plated.

And now we will have a look at our second product, the D'Addario EJ34 Folk. These are D'Addarios versatile guitar string set of nylons which suitable for use on a range of acoustic guitars. They feature non traditional Ball ends to accommodate effortless installation. Manufactured to a high degree from a company at the forefront of popular nylon strings. The basses are expertly wound by computer-controlled laser fitted machines with an 80/20 bronze alloy. You get black nylon treble strings for a wholesome bodied mid-range tones. Packaged in the string brands typical corrosion resistant slips for high quality freshness and longevity. These nylon classical guitar strings perform with superb sound and there are a number of video reviews which demonstrate their brilliance.
Examining the D'Addario EJ46C Pro-Arte Composite
In the set you will find two G string options, one traditional Pro-Arte and another optional one made from the same core composite as the bass strings use which gives a much brighter sound so notably different that they included the originals string for those who prefer the traditional sound. The decision to offer a wound 3rd string helps to bridge the gap between the 4th and second giving chords a much more balanced blended sound.
HEAD TO HEAD COMPARISON
D'Addario EJ46C Pro-Arte Composite
D'Addario EJ34 Folk
KEY FEATURES
+ Richer tones than normal tension.
+ G-string options.
+ Laser measured accuracy.


+ Normal tension.
+ Non- Classical.
+ Easy install.


WHAT OUR TEAM THOUGHT
The D'Addario EJ46 Pro-Arte strings are a good option for string longevity, a longer time between string changes, and louder classical performance from a company that has 3 centuries worth of experience.
This Folksy option is the solid selection to mate for easy strumming. Whilst they will typically stretch and need regular changing from time to time as with most Normal tension nylons they are a great example of the best nylon strings for acoustic guitars because they aren't limited ot classical models.
Read the complete review
You might also be interested in Music Critic's in-depth article on this topic, 10 Best Nylon Strings in 2019.
Related product comparisons: