Side-by-side comparison of the Fender Mustang GT 40 and the Fender Frontman 10G
Today's product comparison has Music Critic comparing the Fender Mustang GT 40 to the Fender Frontman 10G. You might think it all comes down to the price, but frankly there is a lot more to it. Click here if you would like to see more product reviews in the same category.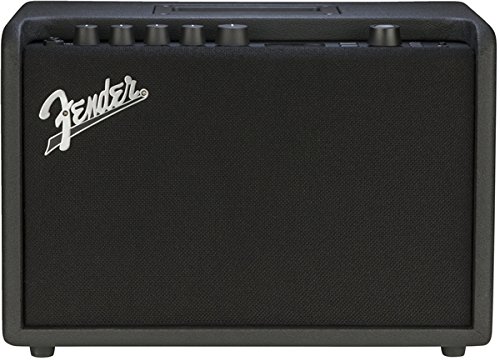 Contestant number one is the Fender Mustang GT 40.

The challenger is the Fender Frontman 10G.
HEAD TO HEAD COMPARISON

Fender Mustang GT 40

Fender Frontman 10G

KEY FEATURES

+Solid amp modeling guitar
+Plenty of presets to get you started
+Can be controlled by your mobile phone
+Two-year warranty included



+Gain controls for more distortion
+Line out and headphone jack
+Easy controls
+Lightweight



WHAT OUR TEAM THOUGHT

The Fender GT 40 is a solid amplifier for anyone that wants to try out amp modeling but doesn't want to spend a whole lot of money. It has plenty of effects and the 21 amp voicings give you everything you need to recreate famous sounds and to create your own signature sound. This is one of the best modeling amps on the market today. If you have a bigger budget, consider these guitar amps under $500.

The Fender Frontman 10G is the perfect practice amplifier as it's lightweight and easy to use for beginners with simple controls. It sounds great and you can use headphones or jam along to your favorite track which makes it a clear winner. If you have a smaller budget, consider a guitar amp under $250.
The Bottom Line
Check out Music Critic's in-depth article Best Guitar Amps Under $300 which includes even more information.
See more head-to-head comparisons of products: