How do they stack up? The Gibraltar Drum Throne 6608 vs the Flexzion Drum Throne
In this comparison we put the Gibraltar Drum Throne 6608 and Flexzion Drum Throne head to head in a battle to find out which wins the specifications war. Not sure which is right for you? Read on and find the perfect item for your needs. This article is part of a series called The 10 Best Drum Thrones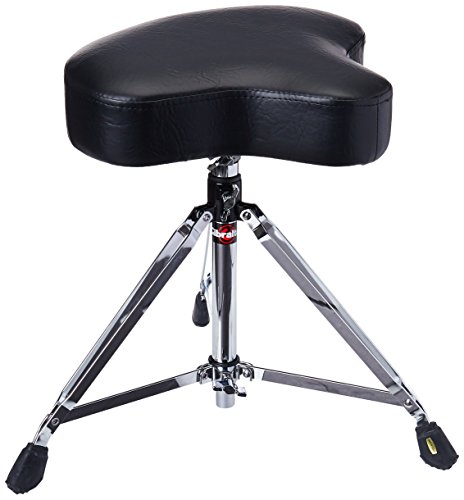 Let's get started by taking a close look at the Gibraltar Drum Throne 6608. We know, playing the drums can be expensive, and even though we recommend that you spend as much as you can afford so that you get a proper, amazing drum throne that will last you forever, we know that it's not always possible. So if you want to find a real bargain, where should you go? To Gibraltar, of course! Well, not to the actual Gibraltar, because that might be even more expensive, but we're talking about this drum throne from the brand Gibraltar.

The challenger is the Flexzion Drum Throne. For some people, the definition of the best throne would simply be: the cheapest drum throne you can find that still works well enough and doesn't break as soon as you assemble it. If that's a definition you agree with, and you don't really care about fancy features and getting the highest quality, you can just as well settle for this drum throne from Flexzion.
Examining the Gibraltar Drum Throne 6608
This is an excellent budget option, and we especially have beginners in mind that perhaps need to buy all the equipment at once and want to save money for that reason. And then there's always the reason that you might not know how much you will actually use it. There is no reason to invest in a really pricey drum throne if you don't even know if you will use it in a few months from now.
Reasons to buy the Flexzion Drum Throne
It's really cheap, but has everything a beginner needs, and could also work well for guitarists or keyboardists. It has anti-slip rubber feet so that it doesn't slide all over the place and it seems to be pretty sturdy and stable, despite the low price. It also has double braced throne legs and folds up so that it takes up minimal space when you transport or store it.
HEAD TO HEAD COMPARISON
Gibraltar Drum Throne 6608
Flexzion Drum Throne
KEY FEATURES
+ Affordable
+ Adjusts from 18-24 inches
+ Good for beginners


+ Cheap
+ Rubber feet
+ Durable
+ 275 lbs weight capacity


WHAT OUR TEAM THOUGHT
Most cheap drum thrones are round, but if you want to find a bargain and get one that has a motorcycle seat, then this is the one to go for (or the Gibraltar 9608mb). It's quite comfortable as well, as long as you don't use it for many hours. Beginners and intermediate players should consider buying it if they want to get good value for money.
Anybody who for any reason wants to save money could buy this drum throne. If you don't want to spend money on fancy drum stuff that hardly ever gets used, then this might be the drum throne for you! Sure, it's not the highest quality, but it does what it's supposed to do, and sometimes and for some people, that's enough. Some people would rather spend money on stuff like drum sticks and drum heads, and you know what? That's ok!
Discover more
Also see Music Critic's article The 10 Best Drum Thrones which includes even more information.
Similar Product reviews: