Side-by-side comparison
Trying to decide between two models? The Music Critic reviews can help point you towards models and brands that suit your needs. If you find this article interesting, you might also want to read The 10 Best Drum Thrones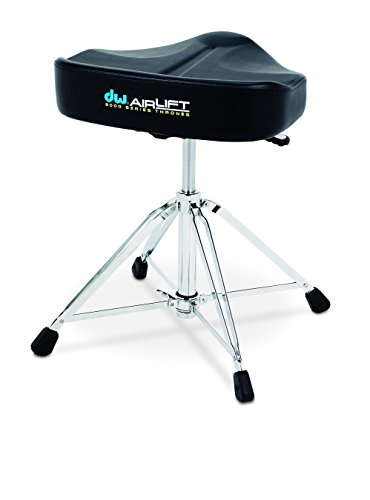 Everyone has different preferences, and we hope our frank reviews will make your decision easier. First, we will take a look at the DW Drum Workshop CP9120AL.

And now we will have a look at our second product, the PDP By DW 700 Series. Next up is this throne from DW which is like a budget version of number 1 on our list. It's sturdy and has rubber feet and it's lightweight but still very stable.
Reasons to buy the PDP By DW 700 Series
It's comfortable to sit on and people seem to be pleased with it except for two things that we've found in several reviews. The first thing is that it's not very easy to adjust the height. The second thing is that it doesn't swivel, but if you're used to a throne that does, you might actually cause it to break if you don't sit still. If you don't feel like any of these two things apply to you, then go for it! It's a good but cheap drum throne that probably suits beginners best.
HEAD TO HEAD COMPARISON
DW Drum Workshop CP9120AL
PDP By DW 700 Series
KEY FEATURES
+ Comfortable
+ Backrest available (but not included)
+ Very sturdy


+ Affordable
+ Sturdy
+ Comfortable
+ Lightweight


WHAT OUR TEAM THOUGHT
If you are serious about playing the drums and want a drum throne that is really comfortable and high quality, then this is the one for you. This is one of the best drum thrones on the market and you can also buy a backrest to make it even more comfortable. If quality, comfort and stability are important to you, and you're willing to spend as much as it takes to get the perfect drum throne, then you're going to love it. Try the Drum Workshop DWCP3100 as an alternative.
We think that this drum throne probably is aimed at beginners and intermediate players who want something that is really comfortable but don't really need the throne to swivel, which might be something that is going to be annoying when you've been playing for a few years. But if you don't care about that you can save quite a bit of money without compromising the quality. It's a really good drum throne!
The Bottom Line
Check out Music Critic's in-depth reviews which includes these two plus other potential contenders.
Similar Product reviews: